BRYAN FOX "10 FIRSTS"... by danimals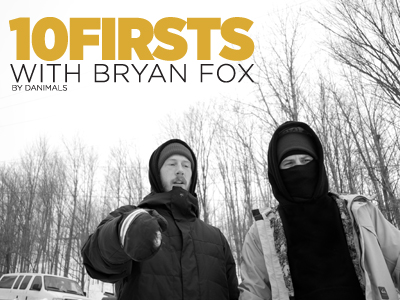 What has made Bryan Fox who he is? Newest team rider Danimals lined up 10 questions to get some inside information on this illusive all terrain snowboarder.
1. Danimals: First Snowboard? Fox : Lib Tech Jamie Lynn with the rainbow top sheet. 2. Danimals: First snowboard video? Fox: Melt Down Project was the first one I saw, but Simple Pleasures was the first one I owned. 3. Danimals: First Resort you went to? Fox: Mountain High 4. Danimals: Your first video Part? Fox: Some Kinda Life, neoproto. 5. Danimals: First sponsor? Fox: Active Ride Shop 6. Danimals: First Injury? Fox: Bruised tail bone. 7. Danimals: First trick? Fox: Linking turns. 8.Danimals: First car? Fox: 1985 volvo 240 DL, it was my brothers old car. 9. Danimals: First day you rode pow? Fox: June mountain, January 17 1999 10. Danimals: First Friend you made through snowboarding? Fox: The Collett brothers were the first friends I made that i didn't know before snowboarding. still good friends to this day.