Mark Healey, Fred Patacchia and Team Quiksilver Go Hard at the Backdoor Shootout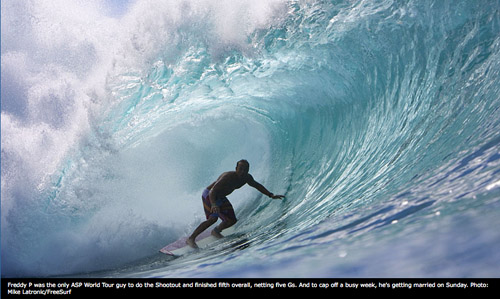 Click
here
to watch Surfline's video highlights
Today was the first solid Pipe swell of the winter, the year and the final day of the Backdoor shootout.  The surf was 8-10 feet with a couple  bigger sets. Tyler "Ted" Newton was in the first heat of the day for the Quiksilver team. This was the first time Tyler surfed in over a month cause he broke his hand earlier in the winter.  But you wouldn't have noticed by the way he surfed.
As the day went on the Pipe guys were pushing it harder and harder. Team Quiksilver had the lead till Nathan Fletcher set the pace with a solid score of 11 out of 12.  He rolled in easy from second reef and pulled up into a bomb and from then on team Vans had their eyes on first place. Mark Healey went out and put on a clinic and scored two 10 point rides out of 12 but wasn't enough to take the lead.
Around 2 o'clock the wind started to pick up and gave it a little texture and it got a little harder to get some high scoring barrels, but this is when John John turned on getting a bomb Backdoor wave all the way across sealing the deal and putting the nail in the coffin for the win for him and his team.
Here were the results.
1st   -  John John Florence 2nd -  Kalani Chapman 3rd  -  Makua Rothman 4th  -  Mark Healey 5th  -  Fred Patacchia Team results 1st  team VANS 2nd team QUIKSILVER 3rd team RVCA Want to thank Eddie and Da Hui for putting on a great event hopefully quiksilver can get there title back next year. - Ryan Hakman