Cosmopolitan Fun Fearless Female and Stephanie Gilmore
Quiksilver Ambassador
Stephanie Gilmore
is in the running to become
Cosmopolitans Fun Fearless Female for 2011!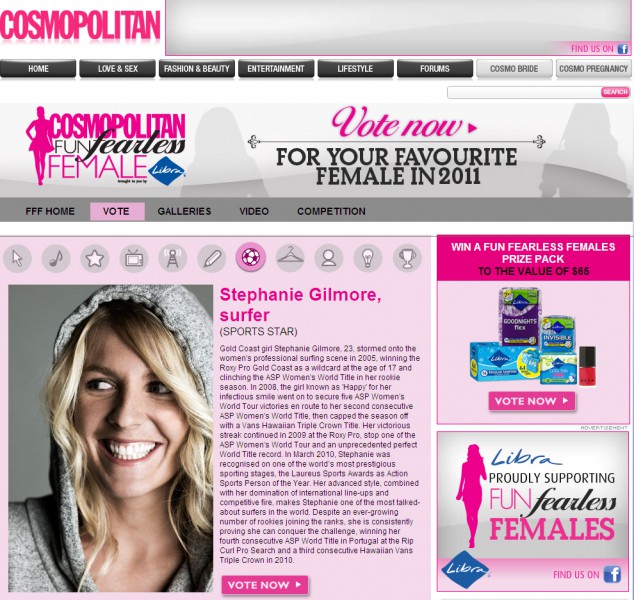 What other girl do you know is as fearless as
Stephanie Gilmore
?  She has won the ASP World Title in each of the last four years, was the youngest ASP Women's World Champion (2007) and has 17 ASP Women's World Tour victories! Stephanie has become one of the most talked-about surfers in the worlds and has proven she is determined and in it for the long run! In the past months Stephanie has also become a
Quiksilver Ambassador
, not only for her skills on a board but also for her passion in music  and photography.She plays both acoustic and electric guitar, including a Cole Clark lap slide and a vintage Fender Strat, and she documents her world travels with a Hassleblad 501c medium format camera. Stephanie's philanthropic work includes Australia's youth-focused
Black Dog Foundation
; and she is a sponsor for two children in Kenya and Ethiopia. Stephanie  truly is a determined girl with a heart of gold! Vote for Stephanie Gilmore for Cosmopolitans Fun Fearless Female of 2011
here!