Tennille Amor's Summer Story...
Last summer was action packed!  My friend/business partner, Alexi Panos, and I headed back to Tanzania, Africa, where we drill clean water wells with our organization,
E.P.I.C.
(Everyday People Initiating Change).  We have drilled six wells so far, with the help of Quiksilver, who donates 3% of the T-shirt sales from their Women's line.  1.1 billion people in the world still do not have access to safe, clean drinking water, and alarmingly, more people die each year from unsafe water than from all forms of violence, including war.  When Alexi and I first discovered that, we felt compelled to try to make a difference in these villages.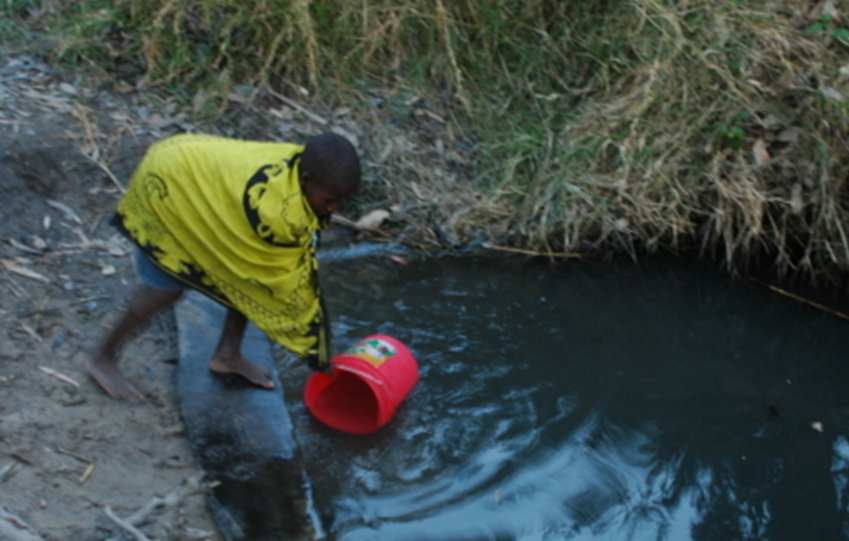 We have walked with the women to their sources of water before, and have carried buckets of water on our heads for distances of up to 3.4 miles.  The agony of such a task is impossible to describe, but heartbreaking to know that these women and children, (who are responsible for providing the water for their families), have to make this walk sometimes 3 to 4 times a day.  The water they collect is often polluted, certainly unclean, and since it is collected early in the morning or late at night down narrow paths, the women and children (some as young as 4 years old) are at higher risk for sexual violence.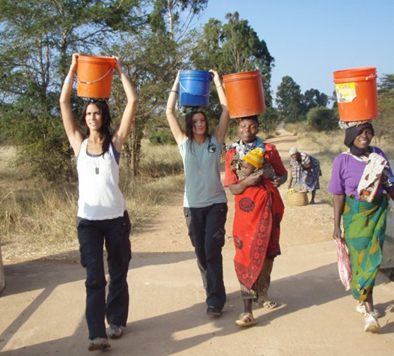 After spending time in each of our villages, and carrying out hygiene and sanitation education programs in the villages where we had already drilled clean water wells, Alexi and I decided to climb Mount Kilimanjaro.  We have been to Tanzania five times already, and had always wanted to attempt the climb, but never had the time.  A few of our friends came out to volunteer with us last summer though, and they were keen to experience it as well, so we decided it was time we made it happen! Mount Kilimanjaro is the highest mountain in Africa, and the highest freestanding mountain in the world, at 19,341 feet above sea level.  Climbing it was definitely one of the hardest things I have ever done in my life (next to carrying a 10 liter bucket of water on my head for 3.4 miles).  After hiking for 3 days, we stopped at the last rest spot, and slept for a few hours before waking up at midnight to begin the final part of the climb.  I am at my worst when I am cold or tired, and the combination is almost deadly, so waking up to begin hiking at midnight in those high altitudes, and freezing cold weather was definitely not an exciting task for me.  We were all wearing as many layers as we possibly could, and thought we would be prepared for the temperature, but since there was no sun shining to provide us with any warmth at all, it didn't take long before we were all frozen! When I stopped being able to feel my feet, I really started to get uncomfortable.  Because of the altitude, you also experience a shortage of breath, headaches, dizziness, and an overall feeling of confusion.  I remember trying to sing every encouraging song I could think of in my head to give me the strength to keep going on, but I eventually told Alexi that I didn't think I could make it, and encouraged her and the rest of our team to go on without me. One of the guides stayed back with me, and told me that if I wanted to go back down that he would take me there, but I was determined to make it to the top.  I refused to come so far without finishing, but didn't know how I would possibly make my body keep going when I felt as awful as I did.  Every single step felt like a struggle.  I was crying, angry, and so frustrated that the sun was taking so long to come up. At around 6am, it began to show itself, and I felt hope again for the first time!  There was still quite a distance to go, but the sun at least added a different light to it all. After what felt like the longest 30 minutes or so of my life, I heard people shouting my name, and looked up to see Alexi and the rest of our group sitting on some rocks above me in a clearing that I assumed to be the peak of the mountain.  My spirit was re-energized, although my body was still extremely weak, but I finally made my way to them, and we all celebrated our success! The celebration was short-lived though, because our guides quickly informed us that the summit was actually another 2 hours or so away!  We were told that only about 30% of the people who climb Kilimanjaro make it to the actual top of the mountain, because many of them choose to end their journey at that point.  I was so exhausted and miserable that I really didn't know whether I could continue hiking for 2 more hours, but after being re-united with the group, and with some persuasion, we all decided to keep going. The top of the mountain is awe-inspiring, and so beautiful because it is still covered in snow, so to experience that was exciting, because apparently in about 20 years or so, all of the snow will have melted due to global warming.  I'm glad we decided to continue on, because it really felt like we were on top of the world up there, and watching the sunrise from that height was an unbelievable sight as well.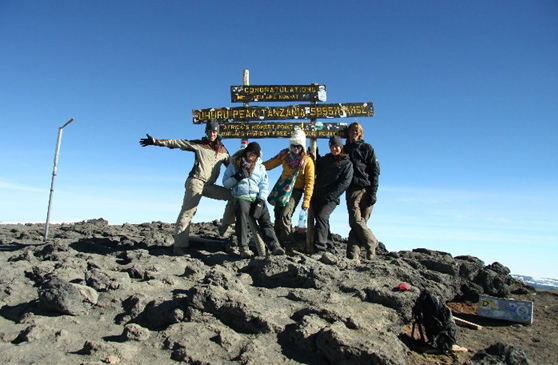 We all made it to the summit, and were so proud of ourselves for managing to go the full distance.  Coming down was a lot faster, and we actually made it down in one day, because one of our guides was unable to finish the climb due to altitude sickness, so we had to get him back down the mountain as soon as we could, but we were all happy to get back quickly anyway. After we made it back down, we all agreed that while it was a life-changing experience, there was no way any of us would ever want to do it again!  Only a few months later though, Alexi and I decided that we should do it again this summer, but this time do it to raise more funds for the wells we are drilling, since the climb is symbolic of the long distances walked by the women and children to collect water for their families.  We are hoping to raise at least enough money for one more water well, but obviously the more we can raise, the better! When I left Tanzania, I stopped off in London.  I am a singer as well, and am currently working on my debut album, but a good friend of mine is a very successful pop star in the UK called Pixie Lott.  Some people had been in touch with me, asking to put on a fundraising event for
E.P.I.C.
in London, and they asked if there was any way I would be able to come out there to perform.  I said that I could come after our trip to Tanzania, and managed to get Pixie to agree to get involved as well, so we, (along with a few other acts), put on a concert for about 500 people, and raised about $7,500 for
E.P.I.C.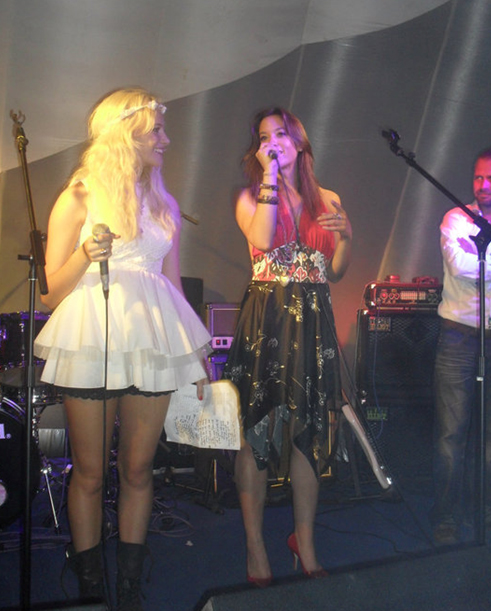 It was such an enjoyable show, and the perfect way to end an action filled summer!  After all of our hard work in Tanzania with the drilling, and then the excruciating journey to the top of Kilimanjaro, it was nice to finally be able to unwind, and do what I love to do most, which was perform to a crowd of really great people.  It was an added bonus that Pixie got involved as well, and such a great treat to be able to perform with her, after being friends and supporting one another for so many years.  It felt amazing to raise so much money for
E.P.I.C
. too, as essentially, that is what Alexi and I always try to do.  Our water project for
E.P.I.C.
is called the 'Ripple Project', because water ripples out and affects every other aspect of community life.  For Alexi and I, E.P.I.C. is that drop of water in our lives, and everything else that we do is a ripple that is always connected to the main source, which is our work with
E.P.I.C.
 Last summer was an amazing journey, and rewarding in so many ways!  I look forward to an equally exciting summer this year!