The Quiksilver Pro - The Biggest + Best Music and Athlete Lineup
QUIKSILVER IS BRINGING NEW YORKERS THE BIGGEST MUSIC AND ACTION SPORTS LINEUP FOR THE QUIKSILVER PRO NEW YORK WITH 40+ MUSICAL PERFORMANCES INCLUDING THE FLAMING LIPS, GIRL TALK, INTERPOL, TAKING BACK SUNDAY, Q-TIP, BLACK REBEL MOTORCYCLE CLUB, PORTUGAL. THE MAN, NEON INDIAN, WAVVES & SPECIAL GUEST PERFORMANCES Labor Day Weekend Appearances by Quiksilver, Roxy and DC Athletes, including Tony Hawk, Kelly Slater, danereynolds, Omar Hassan, Christian Hosoi, Danny Way, Travis Pastrana, And
rè
Villa, Nate Adams, Robbie Maddison, Rob Dyrdek, Stephanie Gilmore, Travis Rice, Torah Bright, Lisa Andersen and Sally Fitzgibbons Special Benefit Concert Performance Saturday, September 10 hosted by Kelly Slater & Friends
Quiksilver announces the world's largest action sports and music festival ever assembled when The Quiksilver Pro New York supported by
vitamin
water arrives in Long Beach, New York from September 1-15. The inaugural U.S. event in the Quiksilver Pro Global Series,which also includes pinnacle events in France and Australia, The Quiksilver Pro New York can already claim its spot as the largest assemblage of music talent and athletes for an action sports competitive event. The festivitieskick-off Labor Day Weekend with Quiksilver, DC and Roxy's top athletes on-hand to meet fans and perform a series of skate, BMX and moto demos; followed byeight nights of music with headlining acts that include The Flaming Lips, Girl Talk, Interpol, Taking Back Sunday and a special benefit concert hosted by Kelly Slater & Friends on Saturday, September 10. "We're very excited to perform at the Quiksilver Pro—the first event of its kind on the east coast," said Interpol's Paul Banks. "As we hail from that part of the country, we are happy to contribute to a collective call of 'Surf's Up!'" The Quiksilver Pro New York is the second stop in the Quiksilver Pro Global Series, the world's largest professional surfing competition series, which also includes the Quiksilver Pro Gold Coast in Australia and the Quiksilver Pro France. Quiksilver is bringing the ASP World Tour's elite 34 global pro surfers to Long Beach, New York to compete for surfing's first-ever $1 million prize purse. Along with the surf competition there will be a massive festival area that includes a live concert stage, motocross, skateboarding & BMX demos, event merchandise and more. Admission is free to the public. The ASP surf competition will take place during the best four days of waves in the event window.
MUSIC STAGE SCHEDULE Saturday 9/3
Girl Talk Saves The Day Mat Mchugh/The Beautiful Girls Solo & Acoustic Rudy ...and a
special
surprise performance!!
Sunday, 9/4
Interpol Portugal. The Man The Ettes The English Beat Bigger Thomas
Monday, 9/5 (Labor Day)
Black Rebel Motorcycle Club Civil Twilight Blackbells The Wicked Tomorrow Wildlife
Tuesday, 9/6
Badfish, a Tribute to Sublime Flight's Kool Withersby
Wednesday, 9/7
The Benjamins Temporary Grace Mike Krum
Thursday, 9/8
State Radio River City Extension Andy Suzuki & the Method Hugo
Friday, 9/9
The Flaming Lips Q-Tip Neon Indian Wavves Charlotte O'Connor
Saturday, 9/10
Benefit Concert Hosted By Kelly Slater & Friends + The Max Weinberg Experience Taking Back Sunday The Sounds SLUNT "I grew up on the east coast listening to the music of my parent's generation...country, folk, singer songwriter type stuff. Most of it I swore I hated, but some of it has stuck with me forever," says Kelly Slater, 10x ASP World Champion. "I've been lucky enough to meet a lot of artists I knew through our vinyl records and became good friends with a couple. We've got a surprise guest playing this year with a few guest appearances thrown in. I think the event is gonna be a really fun night for everybody and something I haven't experienced before." More info on Benefit Concert Hosted By Kelly Slater & Friends to come..... Additional events include:
Quiksilver Presents The Tony Hawk Vert Jam
Friday 9/2
Massive half-pipe demo at Hudson River Park's Pier 54 in New York City at 2:00 pm. Tony Hawk, Kevin Staab, Jesse Fritsch, Mitchie Brusco, Sandro Dias, Neal Hendrix and Elliot Sloan
MotocrossDemos & Autograph Signings Saturday, 9/3, Sunday, 9/4 & Monday, 9/5
DC Team Riders: Travis Pastrana, Andrè
Villa,
Nate Adams, Robbie Maddison
Skate Demos & Autograph Signings Saturday, 9/3 & Monday, 9/5
Skate Team: Tony Hawk, Reese Forbes, Justin Brock, Omar Hassan, Christian Hosoi, Chris Cole, MikeyTaylor, Nick Dompierre, Colin McKay, Josh Kalis, Matt Miller, Wes Kremer, Davis Torgerson, Evan Smith, Felipe Gustavo, Marquise Henry and Rob Dyrdek
BMX Demos & Autograph Signings Friday, 9/2 through Thursday, 9/8
BMX Team
:
Corey Bohan, Allan Cooke, Craig Mast, Anthony Napolitan, Edwin DeLarosa, Rob Wise, Jeremiah Smith Alfredo Mancuso, Kelly Bolton, Brad Simms, Brett Banasiewicz, Ryan Jordan *Athletes and demo times subject to change In addition a new breed of action sports film comes to life as Red Bull Media House, in association with Brain Farm Digital Cinema, presents "The Art of Flight," a Curt Morgan film starring Quiksilver athlete Travis Rice. Join the entire cast of "The Art of Flight" for the world premiere at New York City's Beacon Theatre on September 7. For additional information and updates, please go to: www.quiksilverpro.com. The Quiksilver Pro New York will be broadcast from September 3-15 by MSG and Fuse, with programming that will feature some of the biggest artists, athletes and live performances from the event.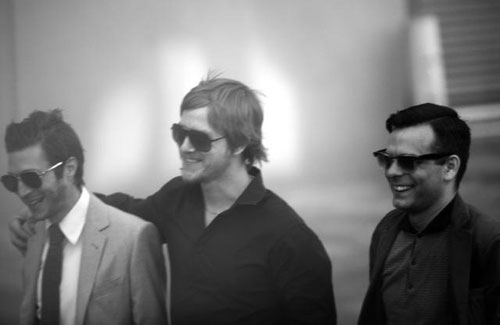 Interpol