Inspired by: Sapa

Beyond the bustling cities of Southeast Asia live many ethnic tribes that continue to live off the land and in the tradition of their ancestors. In the northern mountains of Vietnam, around an area called Sapa, eight of these ethnic groups live in the mountains and valleys, which have been transformed into steep, tiered rice paddies as far as the eye can see.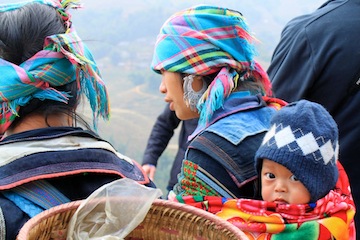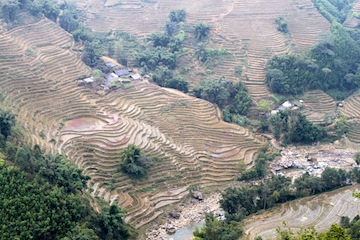 I visited Sapa last month and took a day trek into the surrounding hills to experience the lives of the tribes firsthand. Besides marveling at their simple, yet grueling way of life, I was totally taken by their beautiful clothing. Each tribe has its own distinct language and way of dress. Their clothes are part of their identity and much care is taken to create their beautiful garments.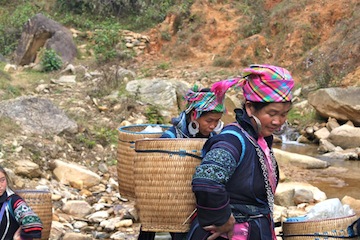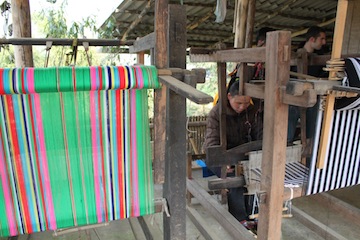 Our trekking guide, a member of the Black Hmong Tribe, named Bam, proudly showed me her intricately stitched collar and sleeves, her colorful hand-embroidered belt and her lovely silver earrings. She explained that the women ALWAYS wear earrings, no matter what, and that some women stack up to five pairs through each ear.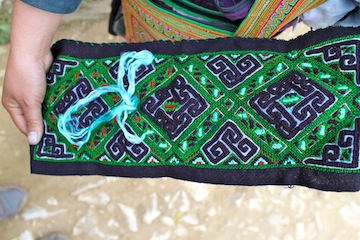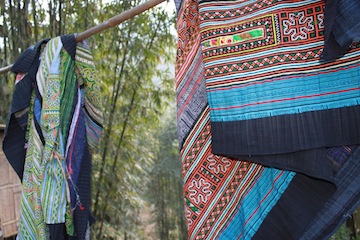 We also ran into some members of the Red Dao tribe, who had bright red headdresses hung with tassels and coins. We saw women weaving the bright plaid headscarves that some of the tribes (including Bam's) wear in the winter, and I couldn't help but pick one up to add to my souvenirs. I also ended up with a colorful, embroidered tote bag and an etched gold bangle… the women and their crafts were all so beautiful, I couldn't resist.