Pacific Festival: The Dunes Announces New Venue, Date & Lineup for Summer 2012
Tickets On Sale Now
for Pacific Festival: The Dunes – Sept 2nd, 2012, a new entertainment experience for coastal Orange County, benefitting Surfrider Foundation – Labor Day Weekend at Newport Dunes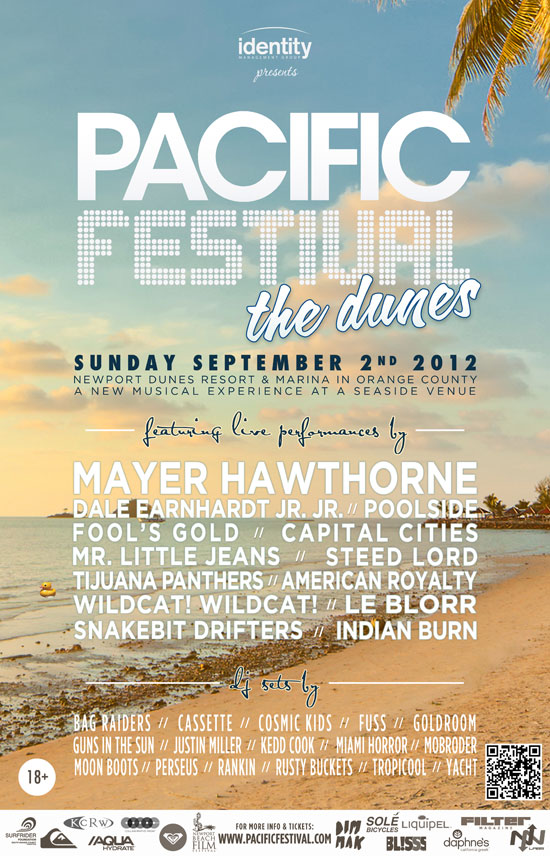 Orange County, CA – August 2, 2012 –
Pacific Festival
is proud to officially announce its new event, The Dunes. Staying true to their outdoor, summer festival vibe, Pacific Festival returns to Southern California on September 2nd with a new, more intimate, event concept and live music showcase at the Newport Dunes Waterfront Resort, a superlative seaside venue in Newport Beach, CA. Newport Dunes Waterfront Resort & Marina 1131 Back Bay Drive, Newport Beach, CA, 92660. Along with a new location, the producers of the Pacific Festival decided to enhance the experience of their annual festival and team up with another qualified production team, Identity MG as presenting sponsor of this year's event. The festival will showcase live music, local foods, art, various vendors, a seaside stage, and multiple entertainment areas, including the Identity Village, a premium VIP experience, as well as official after-parties with some of the top rated DJs in the world. With confirmed artists including,
Mayer Hawthorne
,
Dale Earnhardt Jr. Jr.
,
Poolside
,
Fools Gold
,
Capital Cities
,
Mr. Little Jeans
, and DJ sets by Bag Raiders, Miami Horror, and Yacht, along with a well curated ensemble of additional acts to captivate guests through the day and into the night; The Dunes is shaping up to be the best Labor Day Weekend event in Orange County. Attendees of past Pacific Festival events will know that this will be unlike other summer festivals; you will not want to miss this new event.
Pre-sale tickets for Pacific Festival: The Dunes are now on-sale at pacificfestival.com
along with the full lineup and all the extra info about the event, the artists and the new location. In their 3rd year, Pacific Festival has a proven a history of introducing unique, outdoor event locations, and this year will be no different. Founder and producer, Mike Tunney shares his excitement about the new venue stating, "We can't wait to introduce the new location and concept for audiences to enjoy. There's really nothing out there like it—the best parts of everything we love about summer music festivals complemented by a day at the beach with all your friends. Pacific Festival is now on the Pacific Ocean and directly benefiting the beaches we care about most through our partnership with Surfrider Foundation. The idea is to produce an event that connects culture with community; art with music; and entertainment with philanthropy in our backyard." Pacific Festival: The Dunes is backed by staple lifestyle brands who promise to keep you entertained, including Red Bull, Quiksilver, Roxy, KCRW, Filter Magazine, Newport Beach Film Festival, Sole Bicycles, Vestal, BL!SSS, Cabo Chips, Onnit Labs, Liquipel, Daphne's California Greek and is presented by Identity MG. Pacific Festival has also partnered with the Hyatt Regency Newport Beach providing a destination package for out-of-town guests and even locals who are after that staycation where you can lounge by the pool or golf on a par 3 course. The best part? The Hyatt Regency is within walking distance to the festival grounds. Add some top quality local bites (Daphne's California Greek, Bear Flag Fish Company, Memphis Cafe, & Lime Truck), a crowd that's easy on the eyes and the splash of water and beach related activities, and you've got yourself an unforgettable summer festival experience.
About Pacific Festival
Pacific Festival was developed in 2009 with the mission to be the premier festival in Orange County. Pacific Festival intends to create an unparalleled, one of a kind music experience by showcasing thoughtful productions and offering music fans quality amenities and unique entertainment programming. Inspired by the Pacific Ocean and California culture, Pacific Festival represents an attractive Southern California audience demographic and has the vision to become a boutique destination festival. Pacific Festival has organized a diverse collective of seasoned event producers to develop the business and aims to take a fresh approach in identifying new underserved markets to activate while always keeping Orange County as host to its marquee events and home base. For more information on this year's Pacific Festival, please email:
info@pacificfestival.com