US Open Mayhem in Huntington Beach
To view the full Gallery of Quiksilver at the US Open of Surfing visit our Facebook at facebook.com/quiksilver
.
Although a Quiksilver athlete didn't win the U.S Open of Surfing this year, Quiksilver did put on a show for the spectators and left everyone who we encountered with a smile. From huge maneuvers by our surfers to giveaways people were psyched. Our main attraction was the interactive window that was going on at Jacks surf shop. Every morning a crew from Quik got to wheatpasting letting people know what was going down that day.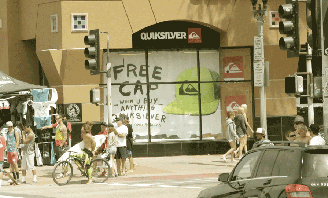 Being the rad company that Quiksilver is we decided to order 2,000 hats and give them to beach goers to keep them from getting burnt. The hats were so bright you could see them from outer space and "The Event" did not like this. However, word of our crazy free hats spread like wildfire and people flocked, begging and shaking the van..."WE WANT HATS!!!" We even had one guy try to trade us his child for two hats. Lucky for us and him, we let him keep his child and a few hats.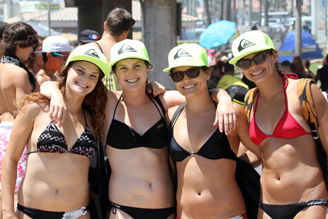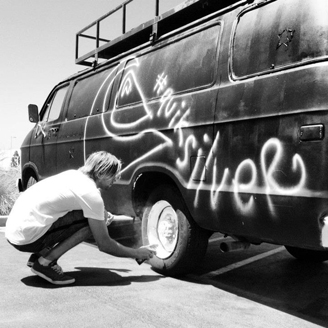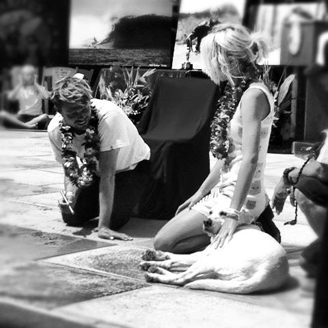 Watch the video of Dane getting inducted in to the HSS Surfing Hall of Fame Here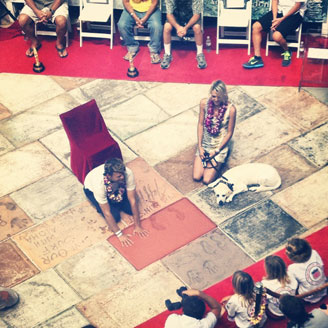 The Surfer's Hall of Fame welcomed Dane into the family along with the legendary Rabbit Kekai and Huntington Beach High School Surf Coach of 25 years Andy Verdone. The ceremony was awesome with Dane immortalizing not only his hands, feet, and signature into the cement of HB but his dog Truffles joined the action with some paw prints. Good Stuff. Congrats to Dane Rabbit and Andy on their well deserved induction.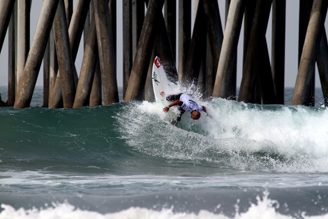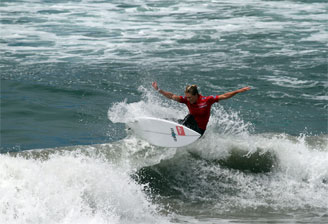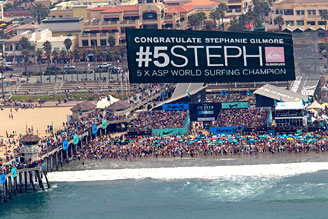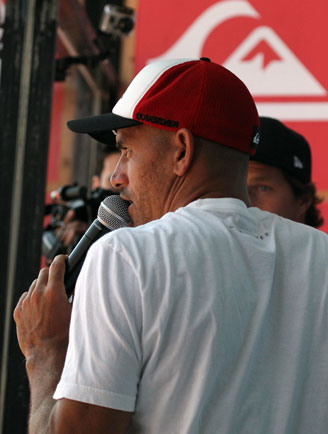 Kelly Slater came by the window and did a live interview with fellow Quik athlete Todd Richards one afternoon.The window announcement created so much buzz that Kelly had to do the meet and greet behind the window to avoid getting mobbed by all the super fans. The crowd was so amped up we feared a riot might happen and not all the policemen in Huntington would have been able to stop the craziness. Newly crowned 5x World Champ Stephanie Gilmore stopped by for a meet and greet too along with autograph signings by the Quik team.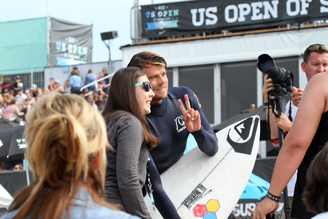 On the surfing side of things our athletes went looney in the small but contestable surf. Dane Reynolds was looking unstoppable. Heat after heat he posted the highest scores but eventually the heat draw put him up against the greatest surfer of all time and last years US Open champ in the quarter finals, Kelly Slater. After a few bogged airs that would have put Dane ahead of Kelly, it was Kelly who found his rhythm and a ticket to the Semis. Unfortunately a wave starved Semi left Kelly needing a small score that never came throwing his chances of becoming defending champ out the window. In the junior mens Kanoa Igarashi relied on his hometown knowledge to earn a respectable second place. This is a huge result for Kanoa as he is only 14 years old and was competing against kids two divisions beyond his.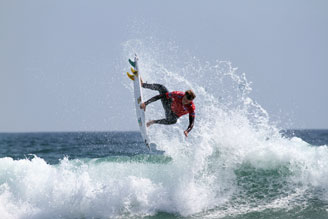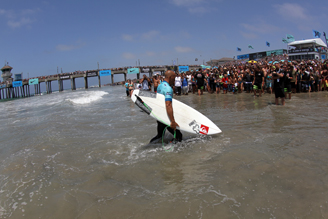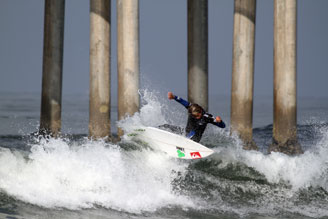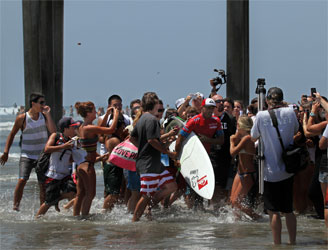 That's a wrap for the 2012 US Open of Surfing... Look out for Quiksilver to be going even bigger in 2013.
To view the full Gallery of Quiksilver at the US Open of Surfing visit our Facebook at facebook.com/quiksilver
.