Reef McIntosh Talks Chargers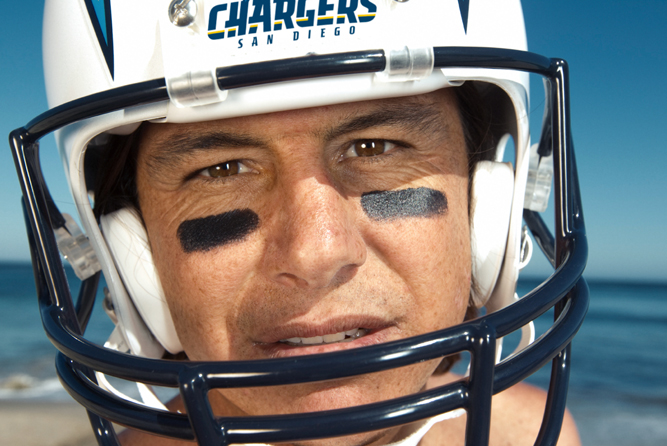 Reef McIntosh likes footabll. Especially the San Diego Chargers, in fact he likes his Bolts so much that he wore their boardshorts nearly every session last winter. A winter that went especially well for the big Kauaian who won both the Da Hui Backdoor Shootout and Surfline's "Wave of the Winter" with an OTW bomb. Oh, and don't forget about the stable of boards air-sprayed with Bolts that he's been going mad on. A true fan indeed.
Quik: Why the Chargers?
Reef: Actually, I was born in San Diego. And then we went to Hawaii when I was in first or second grade and Hawaii doesn't really have a football team, so you're either a Charger, Raider or 49er fan because they're the closest ones to you. I just went with the Chargers because my dad loves them and you know, that's where I was born. I really didn't like football until I was older then I really went die hard, not nazi, but just like, f-kin sunday is the day! Don't touch the TV.
Who will be the standout player or players this year? Anyone new picked up in free agency you're excited to see?
Oh, yes. I watched the draft and we picked 6 defensive beasts. Mark Ingram, I think that's his name, yeah he looks like a freaking maniac. Which is awesome. Linebackers are really important. I'm just glad we picked up all defensive players in the draft. And, there's been a couple unfortunate injuries this year. Matthews, collar bone, but I think he got cleared to play from my inside sources. Oh! That new guy, what was his name, Vincent Brown, the wide receiver who broke his ankle, that sucked! Ankles take a really long time. We really got a lot of key offensive players. It sucks we had to let go of Vincent Jackson, but we got Eddie Royal and he's good. We got Floyd still and he's fast. I'm always excited.
So Hardwick and Stucky recently were cleared to come back to practice. Your thoughts on player concussions and current policies?
Crazy, it's a rough game. If you don't wanna get roughed up, I guess don't play the game. It's a hard one, similar to surfing big waves which is so dangerous but you're going to keep doing it no matter what. I mean, if you don't like getting hit, don't play. You're making a lot of money not to injure people, but to hit people hard! I'm glad they got cleared to play, hopefully they keep playing. So, it's a fine line. If I played football since a kid and all through high school and college and all I wanted to do was be a professional, it's like ok - I'm making so much money to do this and this is what I've always wanted to do. I mean, if I got 10 concussions in a year then maybe it's not for me (laughs), but, I guess it's definitely not personal. They know their body and some guys don't get knocked out ever and some do easier. At the end of the day, it's dangerous. It's not a friendly sport (laughs).
New board graphics in the works for this season?
Well, I still have a bunch of the ones from last year. Unfortunately the media is like, oh those are the ones from last year, we're not going to run any images of last year's stuff. And, my boards are so, pure Chargers, and all the Quiksilver NFL boardshorts are insane, I almost want to start promoting ALL the teams. A quiver of every team? Nah, maybe not that. I may go a little more neutral in all my colors. I've been doing some research cause the guy who painted them, he's crazy. Mitt Seely. It's a guy I met up in Malibu through another friend. He's like, I want to draw on your boards and I'm like, nahhh no one touches my boards, you know those are my babies. Then I said, well okay fine you can do one. He's like, what do you want? We were talking about it and I didn't think it was going to come out the way it did. I was like, holy sh-t! This is mental. So I asked him, do you want to come to Hawaii and do all my boards? I said, you can come to Kauai with me and hang out at my house and then we can go to Oahu and stay at the Pipe house for a couple days before it opens. So, he brought his daughter, painted all the boards. So back to this question, I'm definitely up for some other stuff to be a little more neutral. Not just pure Chargers. That way I can wear, you know, the Bears shorts - they're sick! Green Bay, 49ers, there's so many sick shorts we make. I want everyone to know about them. Nothing personal, I'm a Charger fan for life.
Who are some other pro surfers that are into football we may not know about?
I pretty much know all the Charger fans that are surfers. Ricky Whitlock, Taylor Knox. I just saw a picture of Taylor on Surfer Mag's website the other day, he's got a bolt (on his board). I know Kai Barger is a nuts 49er fan. Some surfers aren't really into football, but some guys really are. Then some guys just jump on the bandwagon. Bobby Martinez is a Raider fan. OH yeah, Gabe Kling, Jimmicane, those guys are big Jaguar fans. It's great, when we played them last year we destroyed them. I remember so many people from Florida flew out for that game and we just smashed them. I definitely [make it out to games]. With what we did last year at a Chargers game - we got to go out on the field, it was insane.
What was it like attending the Pro Bowl last year? Any standout athletes that were good at surfing?
A lot of guys said they were going to surf but the guys that did like Drew Brees and Tony Gonzales, they surf in general. So, they're decent, they can get up and go. I just had more fun meeting people and now you're like friends with the guy! You call Jimmy Graham and just be like "Hey what's going on! Oh yeah you gotta come out!". It's just weird. So in the beginning we had that big night where we got up on stage and were introduced to all those guys. Later they were like "Man we want to see some big waves!!" so I'm like yeah you wanna see some big waves?? I'm not a stalker or nothing but, come to my house on Sunday it's going to be freaking huge. Ok! I'm like, here's my phone number, don't get all weird if I call you and say "where are you guys?". So, Weddle showed up, Scott Mooch, Steve Gregory, Andy Dalton, Jimmy Graham. It was kinda weird, I guess a lot of those guys are friends and were calling each other and were like "yeah we're at Pipeline! It's going off!". It's like word spread and more and more started coming over, so I was like yeah come on over, bring everyone! So, it was cool. It was like huge 3rd reef and we're all on the beach. There's a huge set coming in and we're all watching it and those guys are like, "man we want to go in the water!". I'm like, nope, beach is closed today - see? Nobody in the water. But those guys were like "we can do it!" and I don't know if that's just how football players are, like they can conquer the world, but, I'm like, I really do not want you guys to go in…"We're going in!". I'm like, f--- I'm going to tell you when to go in. Do NOT go far! As soon as your feet touch the water maybe roll around and get out. So, I'm like, go… Now! They ran in there and by the time they came back they were like, "man, you were right about that. The current was like a river out there. One more time!". Their wives are all there.. I don't know if I can rescue one of those huge guys. But, they went in one more time and that was it. It was funny.
Favorite place to watch a game? Any type of food or meal that is mandatory to have for game time?
Going to the game is cool, but I think I enjoy it more on TV because you can see all the replays, it's easier. In Hawaii it starts at like 7am! So you get up and it's like coffee, breakfast. I like watching at the Yardhouse, it's like one of my favorite places to watch. Millions of beers and like 50 different screens. Food wise? The usual, football food - wings, burgers. I don't really eat much during the game. Even if I go to the game, I'm like more excited and food is the last thing on my mind. I'm thinking, ok food is going to slow me down! Maybe cram a hotdog in or something.
Game 1 vs. Oakland? thoughts?
We looked pretty good in the pre-season, what were the Raiders 0-4? 1-3? Which, maybe they weren't showing all their cards. Who knows. But, we looked really good! I guess you don't really know until the first game then you get to evaluate how your team looks. I mean, I didn't think the Cowboys were going to be that good the other night [Wednesday, first game of the season], but they smashed the Giants! Not saying the Giants are a bad team now because they're the defending champs, but the Cowboys weren't a very good team last year at all. I think we're going to win obviously! I'm not going to that game but I'm going to the next one!
Superbowl matchup you'd like to see?
I would love to see us and the Patriots and we beat the Patriots. East vs. West. Just because they've robbed us so many times, not robbed us, we blew it obviously. There's been so many heartbreaking losses to those guys. That'd be a good matchup.
Would you rather: Take a 15ft set wave at Pipe on the head or direct hit from Kris Dielman (former Charger/4x Pro Bowl guard)?
Like helmet to helmet? How is the hit? Like I'm waiving to my girlfriend and get nailed from the side? Ok, the 15 footer, where is it? Lip on the dome? I think I'll take the hit from Dielman. Because nobody's really died from a hit in football right? Paralyzed yeah. But a lot of people die at Pipeline. A 15 footer can kill me - I'll take the hit from Dielman.
Mahalo Reef!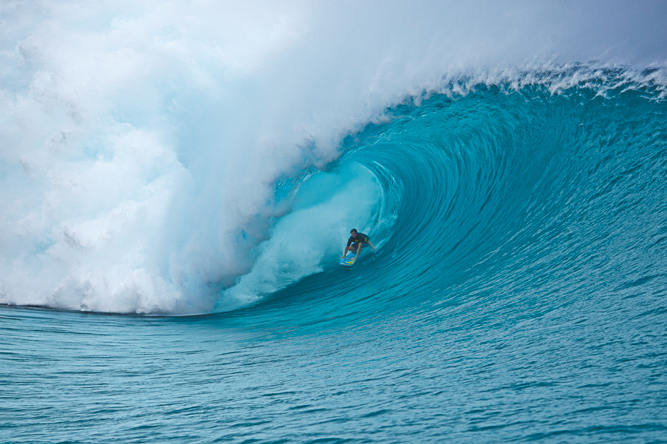 Reef on his way to the end zone at Cloubbreak.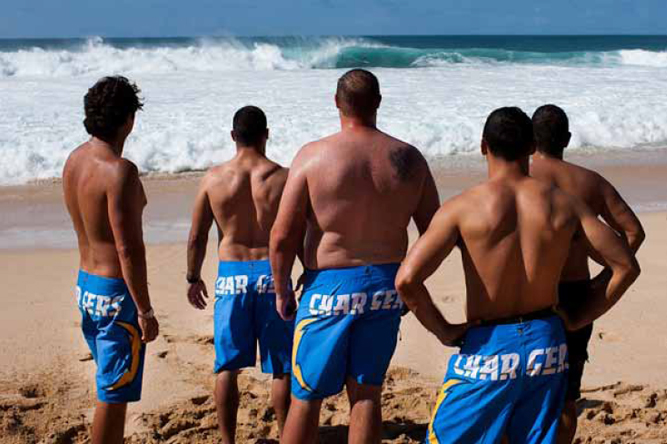 Eric Weddle, Scott Mooch, Steve Gregory, Andy Dalton, Jimmy Graham and Reef McIntosh on the 50 yard line at Pipe.
Shop your team's boardshorts