Austyn Berrics Video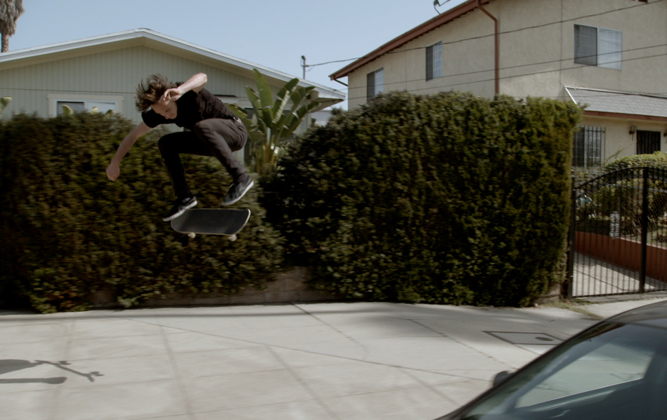 Here a skatepark, there a skatepark, everywhere a skatepark. And that's a good thing but you know what else is a good thing? Pushing through the streets, dodging cops, bombing hills, weaving through traffic and finding new spots. What's more, is being able to capture the skating in a style that truly expresses what it feels like to roll through the streets hitting random spots while taking in all the sights. Lucky for us,
Colin Kennedy
and
Austyn Gillette
pinned the tail on the donkey with their Berrics video. Watch the video. Read Austyn's interview. Get inspired.
Your video on The Berrics shines a new light on skate cinematography did you have any involvement in the production beyond skating?
To tell you the truth, my main roll for the project was to worry solely about skating. Collin knew that embarking on this project and going through the whole process would be stressful enough, so I wasn't as hands on as I would usually be for other projects.
When Colin first pitched his idea for the video to you were you hesitant to get involved?
I was really busy filming about a year ago, so timing was an issue to start the project. I've always respected Collin's eye for filming and growing up in the same town with the same friends made it a lot easier since we already knew one another.
How was it working with Colin and crew?
It was definitely a new way of skating for me, but at the same time I was really excited to work with cinematographers that are highly respected both inside and outside of the skate industry. Everybody was really open to ideas and visions that they personally had for the project and most of us were already friends so it went really smooth.
Did you feel a ton of pressure to land tricks on the first try with them filming from a moving car?
It wasn't a matter of landing a trick first try because that isn't possible for me to begin with haha. I felt a lot of pressure when I was told that we had ten days to film a part. That was the most stressful thing, because you usually have a year or two to film a part.
I imagine if you did miss a trick the car would have to do a lap around the block before it got back into position…how long would it take until the car got back into position before you could try it again?
Sometimes it would take two minutes an sometimes it would take fifteen minutes. Timing played a big roll in this project, which made it a lot more difficult to get one trick. None of the tricks came easy that's for sure.
What was the most difficult trick for you in the video? How many tries?
The switch backside flip was one of the hardest tricks by far. The timing for Collin to have me in frame and make a left turn on a somewhat busy highway made it really difficult. It took about two and a half hours roughly, but it all worked out.
Do you think the video will change how people film parts?
You never know. People always raise the bar with filming, so it's just a matter of time before helicopters fall into the equation haha. Collin has always set the bar pretty high, so it will be interesting to see how it effects filmers.
Any other filming projects in the works?
At the moment I am working on a habitat shoe video that should be out within the next few months.
Any last words/thanks?
I would like to thank Collin, Grant, Marc, Prince, Tom, Everybody at Quiksilver and Steve Berra for making this happen.
View the Quiksilver Skateboarding Collection
.