Following The Seacrew Sweater's Journey To Upperlyne
After popping up on Kristen Grace Lam's blog and on TeenVogue.com, the Seacrew Sweater has officially  moved on to its next destination: the South. In true traveling sweater form, Kristen has passed the knit along to her friend Juley of Upperlyne. Whereas Kristen sported the red, white, and blue sweater under girly overalls and paired with wedges, Juley opted for straight-legged white pants and strappy sandals.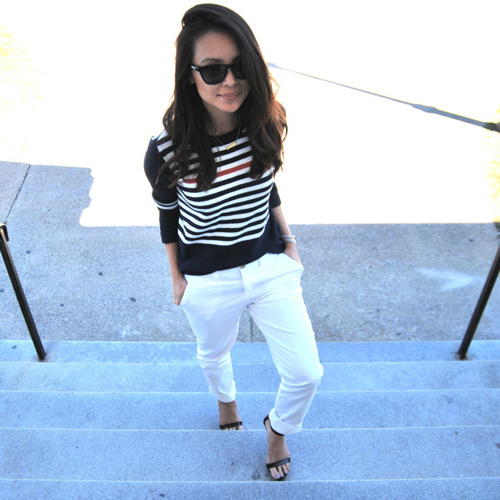 Styled with white denim and heels, it's the perfect piece for chilly early fall days. We love how Juley has kept with the nautical theme, topping off her outfit with Wayfayer-inspired shades, jewelry, and a book.
Where will the Seacrew Sweater wind up next? Stay tuned....and in the meantime, follow the Traveling Sweater journey at quiksilver.com/travelingsweater!