King Of The Peak, Sebastian Inlet - November 5th And 6th, 2012
The Quiksilver King of The Peak is returning to Sebastian Inlet November 5th and 6th with an extended waiting period through the 11th, if needed, to ensure the event sees the best waves possible. Marking 18 years since
Kelly Slater
won the inaugural KOP event, competitors from Canada to Barbados will flock to one of Florida's most famed waves for a share of the $13,250.00 prize purse and the chance to add their name to the list of former Kings.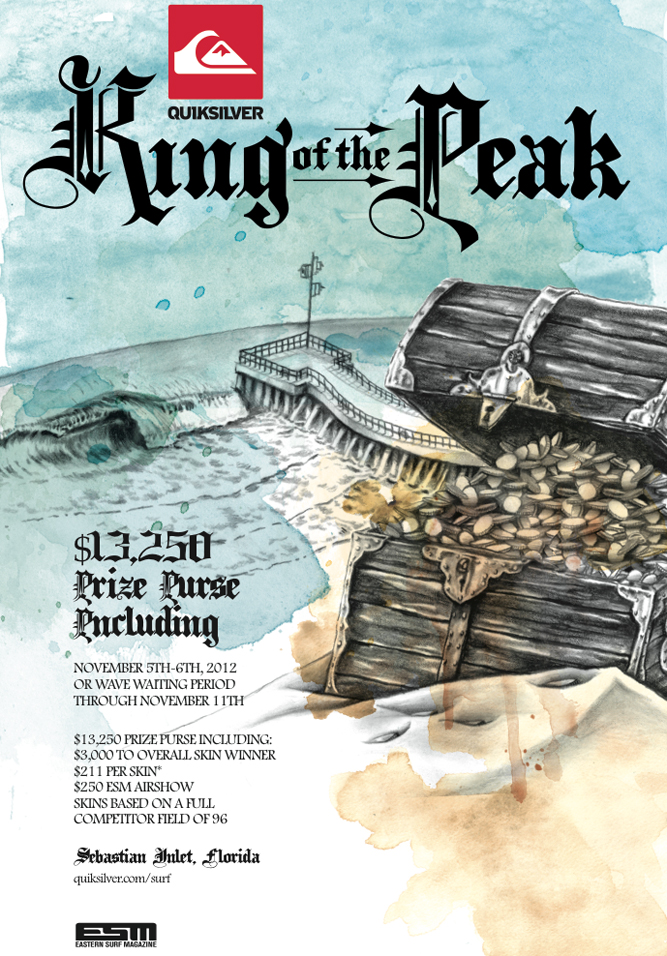 With an additional $3,000.00 on the line for the surfer posting the most Skins, this years KOP is sure to see some great action. Think you have what it takes? 
Enter the contest for a chance to take home some of the treasure or even better...be crowned King Of The Peak.
Contest Rules and Format
Past KOP winners: '95 - Kelly Slater, Cocoa Beach FL '96 - Cancelled '97 - Todd Morcom, Melbourne Beach FL '98 - Bill Hartley, Indialntic FL '99 - Eric Hatton, Fernandina Beach FL '00 - David Speir, Melbourne FL '01 - Kelly Slater, Cocoa Beach FL '02 - CJ Hobgood, Staellite Beach FL '03 - Bryan Hewitson, Indialantic FL '04 - Justin Jones, Melbourne Beach, FL '05 - Kyle Garson, Melbourne Beach, FL '06 - Jeremy Johnston, New Smyrna Beach FL '07 - Eric Taylor Vero, Beach FL '08 - Cody Thompson, Jacksonville Beach FL '09 - Eddy Guilbeau, Melbourne Beach FL '10 - Aaron Cormican, New Smyrna Beach FL '11 - Travis Beckmann, Montauk NY
Stay tuned to Eastern Surf Mag for updates