Canada, A Surf Series By Quiksilver - Part 1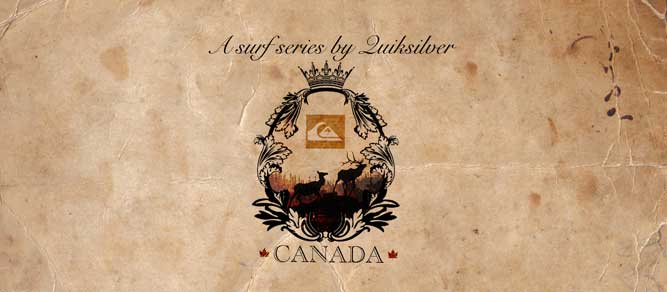 Come along as 
Raph Bruhwiler
and Nico Manos go opposite of tropical in CANADA, A surf series by Quiksilver. If this project doesn't make you want to ditch your normal surf routine for the pioneer life we're not sure what will...don't forget your cold water gear and sense of adventure. It could get wild.
So who all is involved in this video project?
Raph: Every Quik Canada rider will be in the series thats the goal really. To show the diversity of our team up here. From the young guys Kalum Temple, Michael Darling to Myself, Nico from Nova Scotia and Kye Peladeau from Tofino. Nico: Also, some international Quik team riders that come up looking for adventure in the North. Adam Dewolfe who put together Raphs Innersection part will be filming and editing the series, it should be good.
Without giving to much away what is the theme of the CANADA series?
Raph: It's an adventure every time we go for a surf up here, we are going to show what it takes to get good surf in Canada it's not as easy as it looks. Nico: It's about showing what surfing is all about in Canada. It's more than just the surfing.
So far you've been scoring good waves, where have you been surfing?
Raph: Every swell that comes our way we are on it and have scored some great days for sure. We went to Nova Scotia during the Sandy swell and got some good days of surfing point breaks and just recently got back from a good camping trip. Nico: Perfect left and right points for me on the east coast of Canada. Road trips, boat trips, some hiking and a little exploring new surf zones.
How was the Sandy swell when it arrived in Canada?
Raph: The swell was fun, it lasted a while so thats sick to have a five day swell on the east coast. Nico: The swell from Sandy was huge but we had to drive away from the size to get out of the wind. It ended up being just over head but really fun.
What are the water temps like during winter at your local breaks?
Raph: The water in Tofino is 46 F and the air 45 definitely in our thick suits. Nico: In Nova Scotia where i live about 32 F. It freezes over once and a while. Bring your
heat vest
...
What Quiksilver wetsuit and accessories come in the most handy when surfing those temps?
Raph: On the cold days the
Cypher Fuseflex
5.5mm with a
heat vest
, 7.5mm boots with
Neo Goo gloves
. Nico: 6.5mm
Cypher Fuseflex
with a Heat Vest.
Do you have a favorite Quik product at the moment?
Raph: 7.5mm
boots
are so toasty right now and hockey is back on so the
NHL boardshorts
are sick. Nico:
Neo Goo boots
are insane. I couldn't surf without the
heat vest
and I prefer the short John style.
Where is the CANADA series off to next?
Raph: Wherever the waves will be firing and there is adventure waiting but for sure in CANADA. Nico: I'm currently in B.C for awhile and swell is on the way so like Raph said, just stay where the waves are.