Kelly Slater Wins 2013 Quiksilver Pro Gold Coast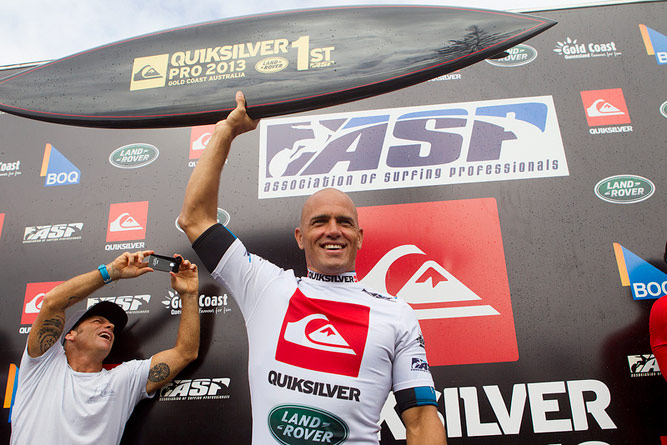 Kelly Slater
(USA), 41, 11-time ASP World Champion and 2012 ASP World Runner-Up, has claimed the 2013
Quiksilver Pro Gold Coast
presented by Land Rover in firing three-to-five foot (1 – 1.5 metre) barrels at Kirra over reigning ASP World Champion Joel Parkinson (AUS), 31, in front of a capacity crowd on the Gold Coast. The opening stop on the 2013 ASP World Championship Tour (WCT), the Quiksilver Gold Coast culminated in fine fashion today with a tube-riding shootout between two of the sport's greatest champions. Slater and Parkinson opened their 40-minute Final bout with a rapid-fire exchange of tube-riding displays, vaulting the lead back and forth before Slater nailed a 9.93 for an incredibly-deep barrel punctuated by a full-velocity forehand gaff. "It was just fun today," Slater said. "I really wanted to surf Kirra as I made known the other day and it was great fun out there. We thought the swell was going to be too East, but it's really really good out there and to get to surf it with Joel (Parkinson) is even better. He's one of the best and we had a lot of fun out there." Today win marks Slater's 52nd elite tour victory of his career, but the iconic Floridian admits that it's a long season ahead in terms of the hunt for the 2013 ASP World Title. "They're all important but it's nice to get off to a good start," Slater said. "The three top seeds – Joel, myself and Mick all finished in the top three spots and Michel (Bourez) had a great event too. Momentum shifts throughout each season and a lot can happen. It's probably the most talented field that has ever been on tour and there are nine more events. I'm committed to the tour this season." Parkinson looked unbeatable on the final day of the event, collecting a Perfect 10 in his morning Semifinal before posting an excellent 17.47 in his Final against Slater. However, the impressive scoreline would prove insufficient against the American's onslaught and the reigning ASP World Champion would post a Runner-Up finish in the opening event of the year.
From surfermag.com
:
In the final, the difference came down to strategy and one Dane Reynolds-esque turn at the end of Slater's highest scoring ride. The turn alone was worthy of a $75,000 check and indeed the victory. In truth, the maneuver separated Slater from Parkinson by far more than the 2 points indicated on the final score line. Sparingly, the judges did leave the door open for a comeback from Parkinson, but when Slater used his priority and faded Parkinson on a certain 10 point ride, it was the equivalent of slamming the door in the current World Champ's face.
"When Kirra is doing what it's doing out there today, it doesn't feel like an event," Parkinson said. "I had some great waves and a lot of fun, and to get to do it with the singlet on is icing on the cake. I appreciate all the local support out here today and Runner-Up is a good start to the season. Bring on Bells." A new highlight at this year's event was the
Crowd's Call
, an interactive voting feature which let fans have their voice be heard on many topics throughout the contest including a first in any world tour event,
the Super Heat
. Between the semi-finals and final, a single heat was held where fans voted in each of the 5 participants who would surf against each other in exhibition.
Dane Reynolds
,
Stephanie Gilmore
,
Craig Anderson
, Jordy Smith, and 1978 World Champion Rabbit Bartholomew all went to battle and didn't disappoint. The winner by majority vote was Steph, who took down the guys and took home a replica Mark Richards single fin custom surfboard. followed by Dane Reynolds and Jordy Smith, who took home an MR twin fin and Simon Anderson thruster (3 fin) respectively. The next stop on the 2013 ASP World Championship Tour (WCT) will be the Rip Curl Pro Bells Beach presented by Ford from March 27 – April 7, 2013.
If you missed any of the action from today's final or any of the Quik Pro Gold Coast, watch every heat, wave, score and more on the Heat Review.
View Highlights
View full Results