Limited Edition Zipperless Asymmetrical Wetsuits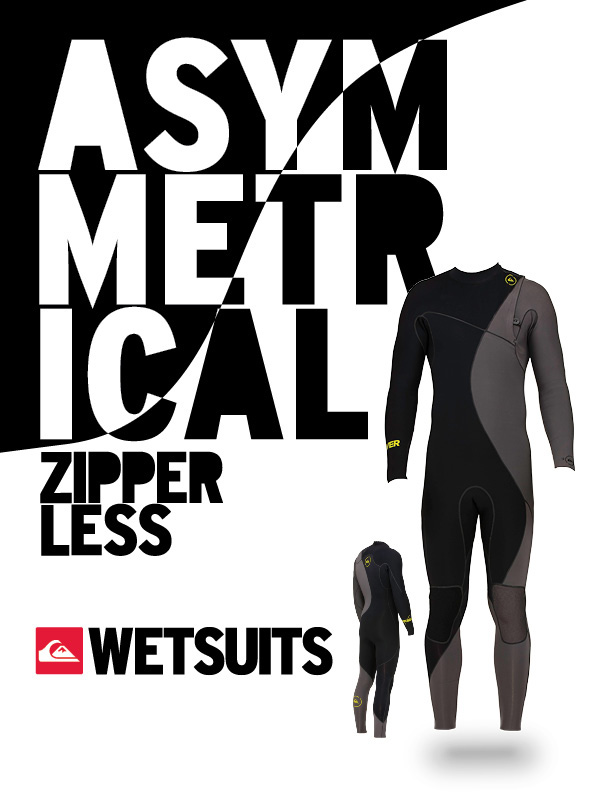 Been wondering what the Quiksilver team riders have been wearing at The Hurley Pro at Lower Trestles? It's a super-limited edition Asymmetrical Wetsuit featuring 100% FN-Lite Neoprene, Hydrolock Seam Seals, and the latest in Zipperless Entry technology. Best thing about this? You can own the same wetsuit. For a limited time only we will be selling them at these lovely retailers in black/gray and blue/gray:
Southern California:
HSS – Huntington Beach Pierside

Jacks - Huntington Beach and Dana Point

Surfside – Costa Mesa

Killer Dana – Dana Point

Surf Ride - Solana Beach & Oceanside

South Coast - Pacific Beach

Hanger 94 - La Mesa

Channel Islands - Santa Barbara

ZJ's – Santa Monica

Spyder – Hermosa Beach

ET Surfboards – Hermosa Beach
Australia:
Quiksilver Retail Stores across AU and NZ

Slimes

Surfection

..and any other great wetsuit specialist
Retail outlets in Europe will have the suits available next week! We can't guarantee you will surf like these guys, but looking like 'em in the water we can. Prepare to be stoked when someone mistakes you for
Kelly
,
Dane
,
Freddy
,
Jeremy
or
Travis
.