Jaws Big Wave Challenge Waiting Period Officially Underway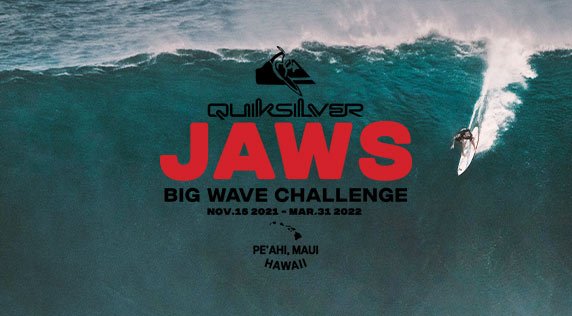 The 2021/22 North Pacific big-wave season is here, and that means the waiting period for the Jaws Big Wave Challenge is officially underway.
Running from November 15 through March 31 at the infamous Peah'i — aka Jaws — on the island of Maui, the prestigious big-wave event is unlike any other the world over. Featuring 24 male and 12 female invitees, the Jaws Big Wave Challenge will only get the green light to run when the surf and weather conditions conspire to create a truly spectacular day of surfing. Competitors will only have 72 hours to scramble their way to Maui once the event is called on.
"Supporting Big Wave Surfing in Hawaii has always been at the core of Quiksilver's DNA and has played a vital role in our company's rich history. We are proud to partner with the WSL for the Quiksilver Jaws Big Wave Challenge," Quiksilver's Brad Blankinship says.
First gaining notoriety on the international stage by Laird Hamilton and Maui's "Strapt" crew that ushered in the age of tow surfing in the late 1990s, Peah'l continues to be one of the most challenging — and dangerous — big-wave breaks on the planet. At its most massive, sets have been known to push the 80-foot barrier.
Thanks to a resurgence in big-wave paddle surfing and advancements in water safety techniques and technology, these days the best men and women are pushing limits under their own power. Notable local Maui surfers leading the charge in the lineup today include Billy Kemper and Paige Alms, who have both won the event multiple times, along with talents such as Kai Lenny, Ian Walsh, Bianca Valenti and Skylar Lickle. And with an invitee list featuring an international roster of talent, the Quiksilver Jaws Big Wave Challenge will see the world's best surfers going all in at one of the world's premiere big-wave venues.
The Quiksilver Jaws Big Wave Challenge will be broadcast live via the World Surf League platform, as well as WSL broadcast partners.
Note: Due to safety and environmental concerns, there will be no on-site spectating at the Quiksilver Jaws Big Wave Challenge. There will be no parking available to non-residents on either side of the Hana Highway around the event site the day of the competition.