France. The land of wine, cheese, casual nudity and thumping beachbreaks. There's no place like it. Especially not during the Quiksilver Pro France.
We're here — a whole crew of surfers, skaters, snowboarders, musicians and artists — and we want you to come with us for the ride.
Here you'll find an evolving feed that'll bring you behind-the-scenes of all the good times in and around the 2016 #QuikPro France. Check back daily to see what's it like to win a heat, or come for an adventure up the coast. Join us for a backyard barbecue complete with a mini ramp or follow along as the waves just over the dune could be firing. Anything, really — we'll figure it out.
Meet you there….or here.
Quiksilver pro france 2016
October 4 - 15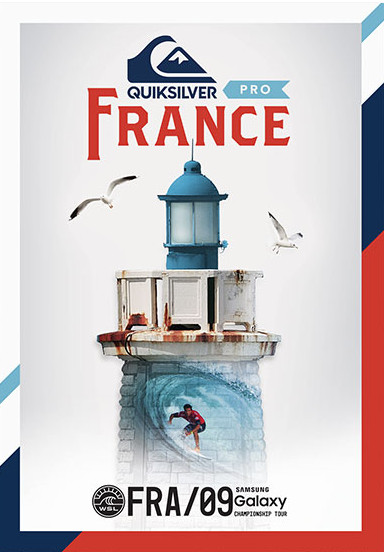 The crème de la crème of mens surfing
This autumn, for the 15th consecutive year, France takes its place among the great surfing nations and welcomes the world's surfing elite to the Landes coast for one of the most exciting and decisive events on the World Surf League (WSL) calendar – the Quiksilver Pro France .Held from 4 to 15 October in Hossegor, Seignosse and Capbreton, the Quiksilver Pro France will feature the return of past champions John John Florence (HAW), Gabriel Medina (BRA), Kelly Slater (USA) and the home crowd's favourite Jeremy Flores (FRA) to the region's.
Agenda
/ #Quikpro 2016 side events
We've got a ton of cool stuff going on after the #QuikPro action wraps up each day. If you're in town, here's a few dates to dial in:
Quiksilver Pro France waiting period commences

From 5:00pm: Autograph session with elite surfers, Quiksilver Shop, downtown Hossegor
From 6:00pm : "Jeru The Damaja" concert , DC Shoes shop, Hossegor

From 7:00pm: Afterwork Party live music & DJ set @ Quiksilver Boardriders, Capbreton

From 5:00pm: Euroglass shapers meet and greet, Capbreton Boardriders
9:00pm: Quiksilver in Memory of Eddie Aikau 2016 screening, Place des Landais, Hossegor

From 5:00pm: Euroglass shapers meet and greet, Capbreton Boardriders
From 7:00pm: Concert at Heads Beach Bar, Bourdaines Beach, Seignosse

9am: #ROXYFITNESS Tour - 100% female YOGA, RUN, SUP Event @ Lake Hossegor