Gone Tomorrow
Australia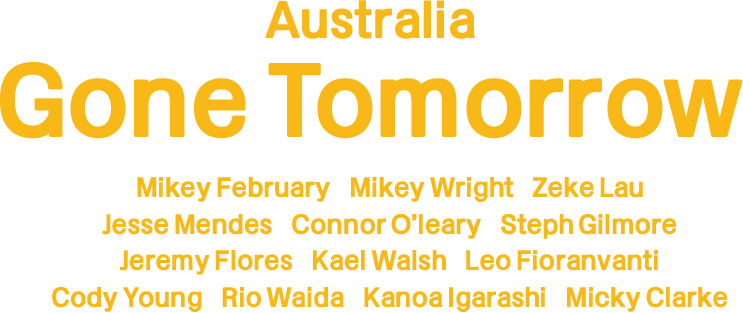 Australia was a blur.

There were too many waves. Too many pies. Too many late nights and early mornings. We spent time in three different regions. We did strike missions. We got chased out of the water by sharks. We got skunked. We got barreled. We got loose. We were there for over six weeks, but it all flew by in a flash.

Here today. Gone tomorrow. Forever in the now. See you next time, Australia.
This place has it all. People. Culture. Nightlife. And did we mention the Superbank? The Gold Coast truly is an international hub of surfing and it lived up to its name this year. The kicker? We lucked into one of the best swells of the year.
Goodbye, boardshorts. Hello, 4/3. This place is country. And it is cold. We spent time in and around Torquay, the birthplace of Quiksilver. We surfed Bells and Winkipop. We pursued the region's best sand banks — including King Island, which is only one sketchy flight away.
Big sharks. Big kangaroos. Big ramps. Big tubes. Small chance of not having fun. West Oz truly is wild. Our days consisted of scrambling around the rugged landscape, dodging Great Whites and trying to stand tall inside backless tubes. It was not a bad way to end the trip.