How To Choose a Backpack by Activity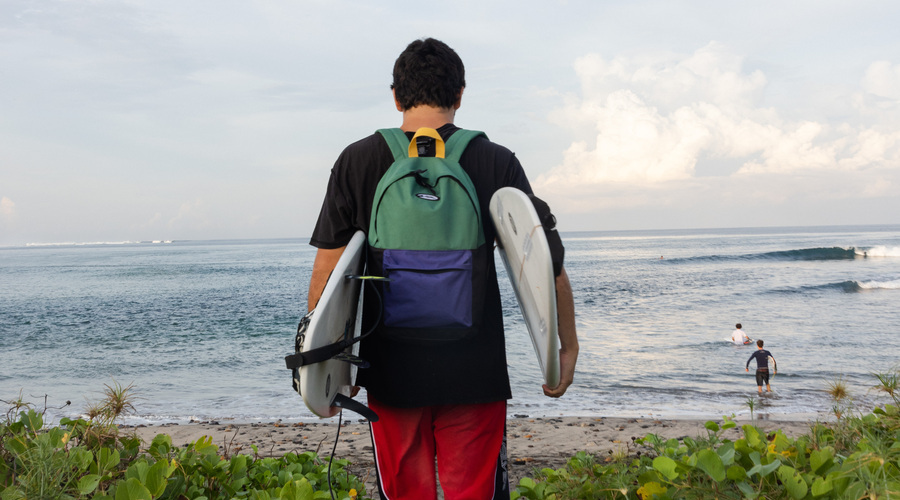 A backpack is an ideal way to store and carry your gear, no matter what activity you have in mind. If you need a backpack recommendation, the first thing to consider is how you will be using it.
Are you looking for a pack to take to work, on travel, or for camping and surfing? You'll need to think about features, capacity, materials, and more, but your activity will determine the type of gear you need. Let's take a look at the various backpacks you will find.
Backpack Capacity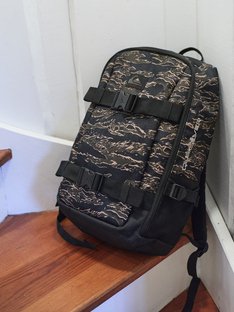 Backpack capacity is a big factor in deciding on the right pack. Consider how long your trip will be, the types of activities in which you will use the backpack, and the features you prefer.
You can find specific packs for your interests, including everyday, surf, travel, hiking, camping and those for school or carrying laptops. Here are some general guidelines.
| | | | |
| --- | --- | --- | --- |
| Type of Backpack | Capacity | Types of Activities | General Features |
| Everyday/Commuter | 15-35 L | Walking around town, commuting, transporting computers and camera gear | Durable, sturdy, comfortable, secure |
| Surf | 30-50 L | Surf trips, nature adventures, beach days | Multiple pockets, wet/dry storage, water resistance, functional layout |
| Travel | 25-45 L | Day trips, overnighters, longer vacations, flight carry-ons | Ample storage, practical, unstructured style for easy packing |
| Hiking | 10-35 L | Hiking, climbing, canyoneering, fishing | Rugged, comfortable, many pockets, sternum strap, clips |
| Camping | 35-70 L | Backpacking, extended travel, trips in nature | Quality materials, durable, padded straps, waist belts, loops |
| Laptop/School | 10-30 L | School, work, meetings | Slim and efficient, anti-theft zippers, hidden pockets, laptop straps |
How To Choose an Everyday or Commuter Backpack
Everyday or commuter backpacks are versatile and straightforward, making them ideal for daily use. They offer a variety of styles, features, and storage options.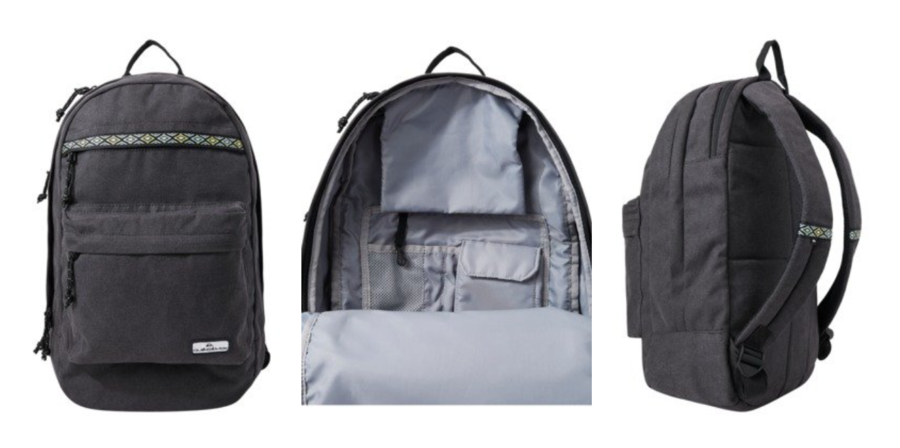 Everyday backpacks share several common features, including:
Organization: They provide several storage pockets and mesh pockets for different sized items.
Padded shoulder straps: Comfort is essential when you wear a pack daily. Padded shoulder straps let you move around without unnecessary pressure.
Durable fabric: These backpacks often use tough materials designed to withstand daily wear and tear. Many fabrics are eco-conscious as an added plus.
How To Choose a Surf Backpack
A surf backpack may look similar to an everyday pack, but there are some key differences. You'll find specific features made for surfers and their accessories, making these packs perfect for carrying wetsuits and all the gear you need for surfing.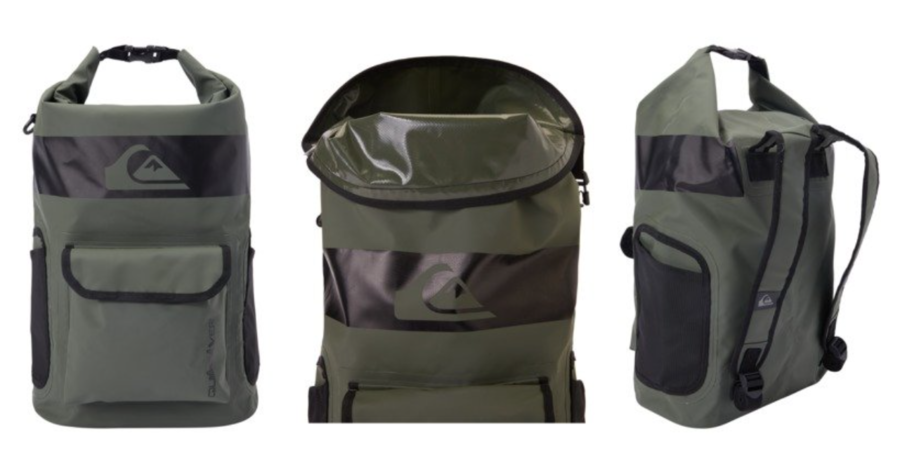 Some of the things that set surf backpacks apart are:
Waterproofness: Your surfing backpack can get wet from the ocean, trekking through lush environments, or from a dripping wetsuit. Waterproofness will protect you from a soggy, damp pack.
Mesh pockets: These pockets offer a place to keep loose objects. Whether you need to store a beanie to warm up quickly after a surf or a water bottle or snack, mesh pockets are convenient.
Wet/dry bag: Keep your wet items separate or your dry things dry with a wet/dry compartment or removable bag.
Fin storage: Most surfboards have interchangeable fins, and different waves require unique fin setups. Having a designated fin storage in your pack will help you change fins quickly and get in the water in no time.
Wax pocket: Wax pockets offer a separate space to conveniently store your wax and prevent a melted mess from covering the rest of your gear.
Internal key fob: Keep your keys safe and secure with an internal clasp to attach them to.
How To Choose a Travel Backpack
Travel backpacks are perfect for carrying clothes and necessities on vacation. Whether you plan a weekend getaway or an extended trip overseas, you need to be aware of travel backpack dimensions.
Besides being able to accommodate all your things, these packs need to adhere to specific regulations when traveling. In general, you can bring up to a 45L backpack as a carry-on on domestic flights, while international flights often max out at 40 L, but we always recommend checking with your specific airline first.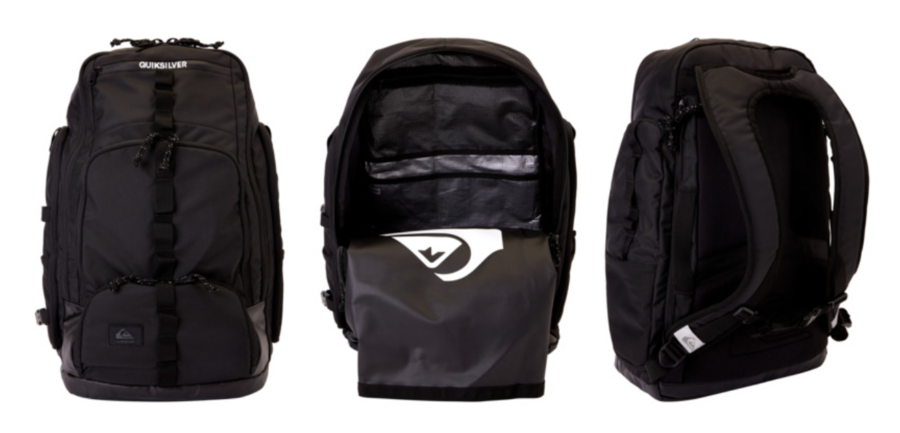 Travel backpacks come in all shapes and sizes, but usually have a functional layout and style. Some common items you'll find include:
Pockets: Travel backpacks offer multiple pockets in different sizes. Many have a large central pocket perfect for packing lots of clothes for your trip, and smaller ones for travel-size toiletries and quick snacking access. Look for sunglass pockets and those with different entries like roll-top and front-zip.
Zippers: These packs have durable, rust-resistant zippers, so you can trust them to hold up over many trips without issue. They come in different styles, including front-zip, top-zip, and side zippers to add to their efficiency.
Ergonomic straps: Quality straps keep the weight of your backpack properly stabilized against your body to minimize extra movement and conserve energy.
How To Choose a Hiking Backpack
Hiking backpacks are essential for keeping your important items together when you're on the trail. They are designed with comfort, performance, and reliability in mind, with functional and convenient components to keep your items safe.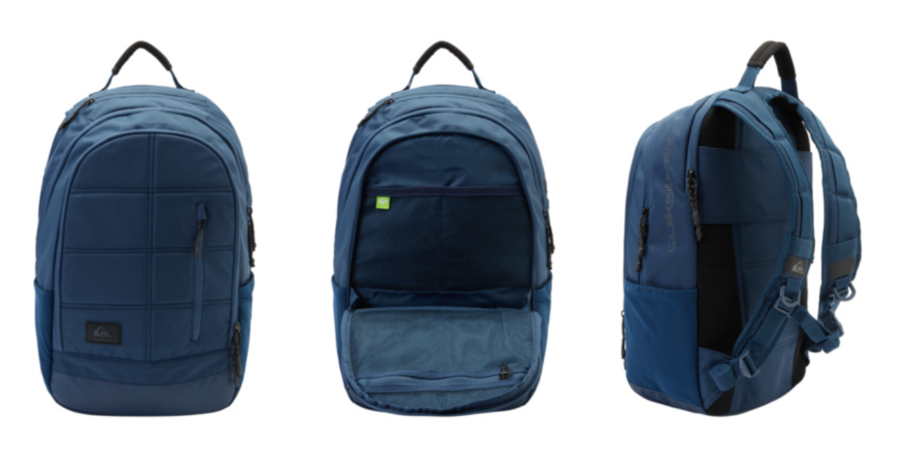 Hiking backpacks are comfortable and efficient – everything from clips, pockets, and loops are there for a specific reason. Some features you will find on these packs are:
Water bottle holder: If you try to jam water bottles into other packs, you can tear mesh and wear pockets down. Designated water bottle holders ensure a snug fit, no spillage, and a secure spot for your bottle.
Sternum strap: Sternum straps disperse the weight of the pack across a broader area, keeping you centered and performing on your hike. Inclines can pull your weight backward and forward, and these straps will keep the pack solid and secure.
Reflective patches: Having safety features like reflective patches will make you more visible and keep you safe on your hike. They are great for locating your pack in low-light conditions or in the dark.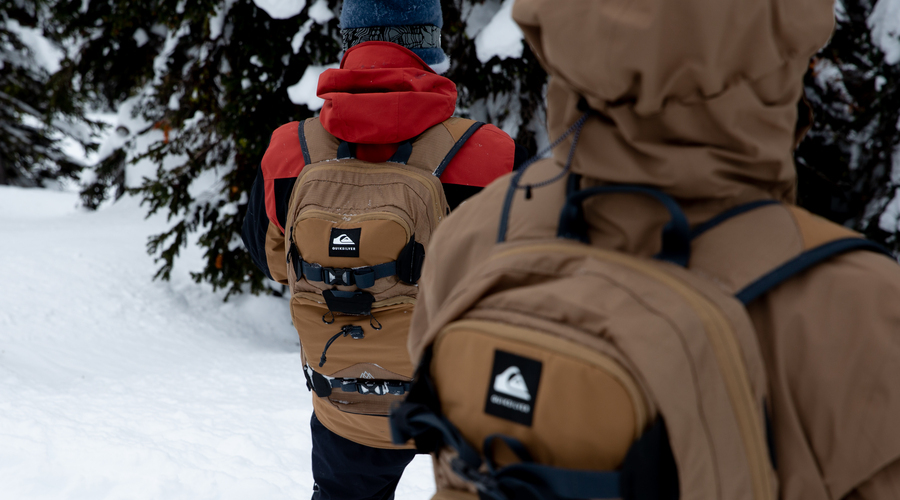 How To Choose a Camping Backpack
Camping backpacks allow people to carry all they need to set up camp in the wilderness. These packs are large and spacious, providing plenty of room for tents, sleeping bags, clothes, and cooking gear.
Camping backpacks range in storage size and style, but share many features:
Capacity: Camping backpacks provide a wide range of capacities. If you're planning on an overnight trip or prefer lightweight hiking, a 35-50 L capacity is sufficient. For multi-day trips, a 60 L pack is optimal, while 70 L packs are excellent for trips lasting more than five days.
Molded shoulder straps: When you're carrying this much gear up a mountain, you need all the comfort you can get. Molded shoulder straps offer excellent weight dispersion across your shoulders, and you can adjust them to fit your body type as needed.
Insulated cooler: These coolers will keep food and drinks cold, letting you prepare meals and have refreshing breaks on the trail or in the campsite. As a bonus, many are leak proof and waterproof.
How To Choose a Laptop Backpack or School Backpack
Laptop or school backpacks are designed for transporting books or small computers. They are made for daily use, streamlined to fit just what you need and easy to maneuver around town.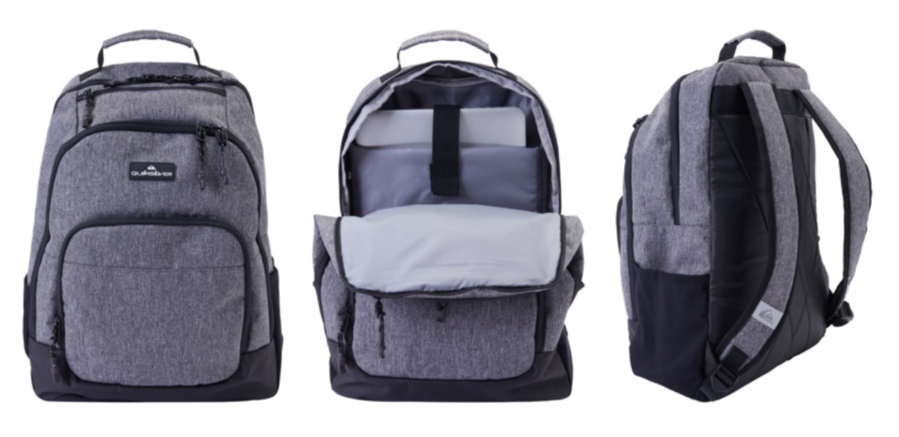 Laptop or school backpacks have unique characteristics that make them great for students and anyone who needs their laptop on the go. Some things they share are:
Padded sleeves: It is easy to bang your laptop around when it is in a backpack. Laptop backpacks have padded sleeves to provide protection and keep your device safe from impacts.
Front pocket cable storage: Front pocket cable storage makes it easy to access charging cords, USB cables, and other accessories quickly.
No matter what you need a backpack for, there are many styles and designs available. The features built into backpacks are what makes them unique, so be sure to shop around for the ideal one for you.