GORE-TEX® is an ultra-thin layer of a material called ePTFE (expanded polytetrafluoroethylene), aka the GORE-TEX® membrane, which delivers two properties essential to keeping you dry while snowboarding:
Waterproofing from snow and moisture that would otherwise make their way into and stay inside your clothing.
Breathability which lets water vapor, aka your sweat, pass through the fabric and escape, not condense against your skin, and make you clammy and cold.
We'll explore both of these properties in more detail below. GORE-TEX® fabric is so effective that it has become a must-have if you demand high performance from your snowboarding gear. Many jackets, pants, gloves and even some snowboard boots have some layer of GORE-TEX® integrated into their design.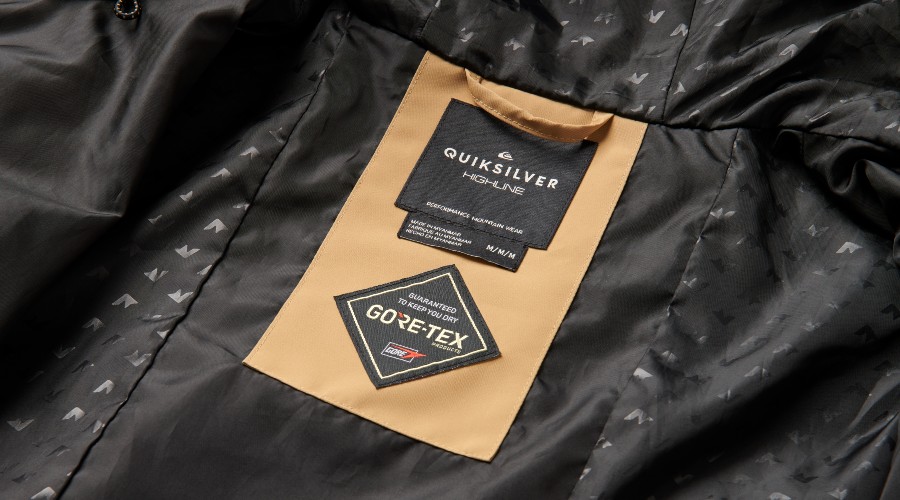 GORE-TEX History
GORE-TEX® is the world's leading manufacturer of breathable waterproof fabric and has remained a trusted brand-name since coming to market in 1976.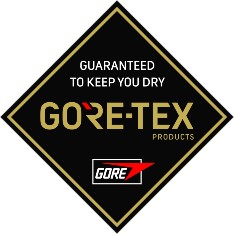 The Gore family was the first to patent this revolutionary material in 1970 and has since woven itself into the fabric of the outdoor clothing industry; the ski and snowboard industry is no exception. In 1979, GORE-TEX® introduced GORE-SEAM® into its mix, making seam-sealed garments the new gold standard for the outdoors industry. A decade later, they introduced a "Guaranteed to Keep You Dry" promise.
GORE-TEX® continues to innovate and expand its line of products to meet the needs of skiers, snowboarders and other outdoor action sports.
How Does GORE-TEX Work?
Fabrics & Materials
There are essentially two ways in which a GORE-TEX® membrane is used in making waterproof garments: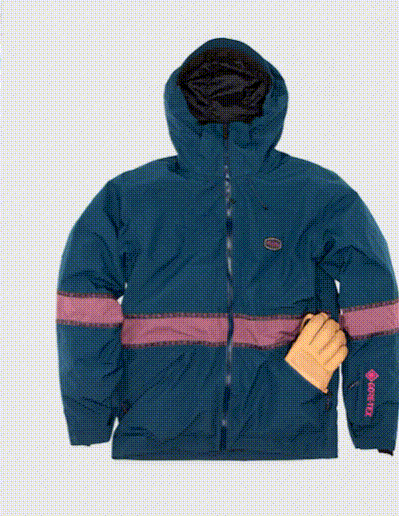 2L garments (2 Layer) where a GORE-TEX® membrane is bonded with heat and pressure to a DWR (Durable Water Repellent) coated outer layer generally made of polyester or nylon. A layer of insulation sits loosely between the membrane and the jacket's inner layer. The membrane keeps the insulation warm and dry, and creates a comfortable layer within the garment.
3L garments (3 Layer) have both the outer and inner layers bonded to the membrane effectively creating a GORE-TEX® sandwich. This improves durability as it provides extra protection to the membrane.
SHOP SNOW JACKETS SHOP SNOW PANTS
To understand more about layering systems, check out our article on "How To Layer for Skiing & Snowboarding".
The exact type and quality of fabric used for the inner and outer layers is up to the manufacturer. Fabric is sometimes rated with something called denier (for example, 30D), which is the thickness of the fabric strands woven together. The higher the rating, the thicker, sturdier and more durable the fabric.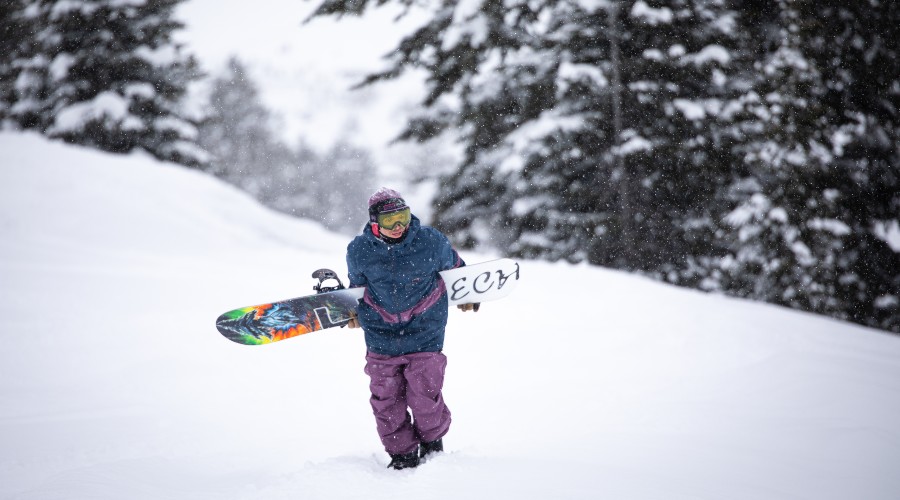 Waterproofness
GORE-TEX® membranes are essentially large pieces of porous material. The size of the pores are smaller than the average water droplet, but larger than the average water vapor molecule. This keeps water out and lets vapor escape.
Waterproofness is largely determined by the outer layer fabric and DWR coating, and is strengthened with GORE-TEX® material. While GORE-TEX® won't lose its waterproofness, DWR coating can wear off through use. It can be restored with proper care involving washing, drying and eventual reapplication of the coating. Check out our guide for information on "How To Reproof Waterproof Snow & Ski Wear".
Waterproofness ratings can vary from 5K to 45K and refer to the amount of water in a one-inch column needed to penetrate the fabric. For more details on waterproof ratings check out our article on "How To Choose a Snowboard Jacket & Pants".

Breathability
Breathability is rated on a scale showing how many grams of water vapor can pass through a square meter of fabric in 24 hours. It typically ranges from 5,000g to 20,000g and above.
This is a key spec to consider when buying gear, especially for beginners picking themselves up off the bunny slope or backcountry experts hiking up steep terrain who might be sweating more than the casual resort rider.
You might have heard people ask "Is GORE-TEX® really breathable?" and the answer is, yes, as long as it's properly maintained. A 2L or 3L GORE-TEX® jacket paired with an efficient layering system will keep you warm and dry all day long. For information on how to take care of GORE-TEX, check out the "How To Care for Your Snow Clothes" guide.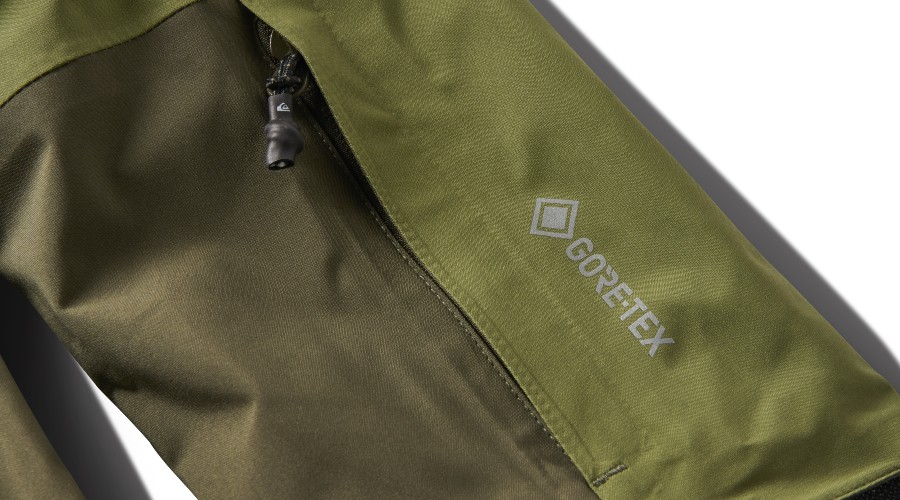 Windproofing
Windproofing is rated with a unit called CFM (cubic feet per minute), the lower the number, the higher the windproofing. According to GORE-TEX®, a garment can only be considered windproof if it has 1 CFM.
Most high performance garments rated at 5 to 10 CFM have strong enough windproofing to keep you warm on top of those windy mountains. A fleece which allows wind to go through it will be rated at about 60 CFM.

Environmental Awareness
With sustainability in mind, GORE-TEX® has also set a goal to eliminate non-biodegradable PFCs (per and poly-flourinated chemicals) from membrane manufacturing and DWR treatments to reduce their carbon footprint.
Part of the issue with PFCs is that there is no universal definition for them, so GORE-TEX® has identified a specific list of PFCec (PFCs of environmental concern) in order to lead this sustainability initiative. Traces of PFCs can remain in water for generations, while PFCec-Free fabrics provide the same level of technical performance without degrading and polluting our environments.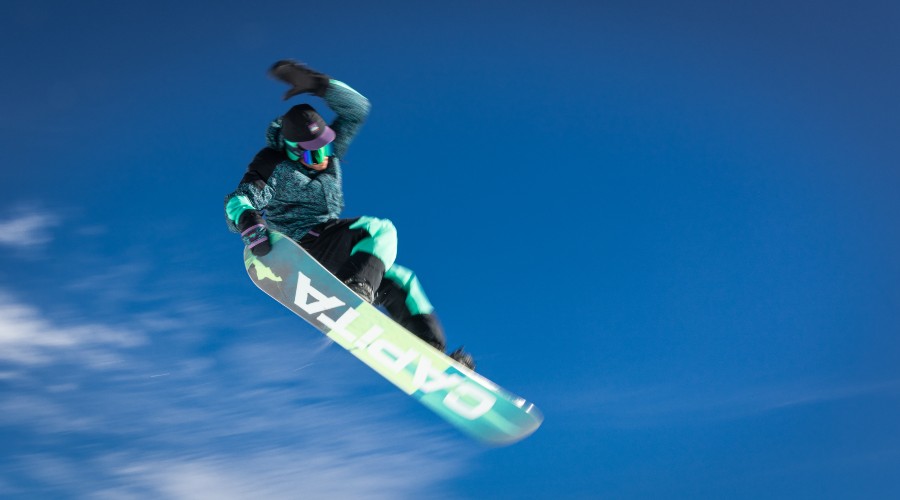 GORE-TEX Products for Snowboarding
Whatever your skill level, as skiers and snowboarders, we need quality waterproof gear in all conditions. No one likes feeling cold on the mountain. Protecting yourself from the elements lets you focus your energy on the joy of being outdoors rather than staying comfortable.
Check out our articles on "How To Dress for Snowboarding" for more tips on choosing the right clothing for you.
Related Guides
How To Layer for Skiing & Snowboarding
How To Choose Snowboard Jackets & Pants
Difference Between Ski & Snowboard Pants