How To Choose a Ski Jacket: What To Look For
A good ski jacket is key to staying comfortable on the slopes. The perfect jacket will keep you protected from the elements while giving you the freedom of movement that you need. This expert guide will cover the essentials like jacket types, styles, and features to help you find the right jacket to keep you warm, dry, and comfortable.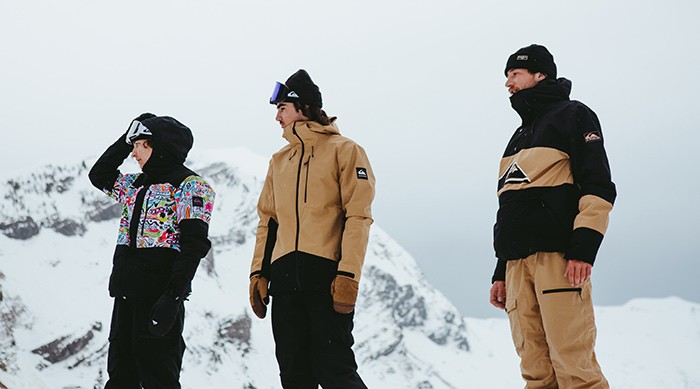 What Are the Different Types of Ski Jackets?
Ski jackets fall into three categories: Hardshell, softshell, and insulated. Deciding which jacket is the right choice starts with understanding the conditions you'll be skiing in, your level of activity, and the level of warmth that you need.
Hardshell Ski Jackets
Best for ultimate weather protection.
If you want unbeatable weather protection, a good hardshell jacket is worth the investment because they are highly waterproof, windproof, and durable. They offer unbeatable protection for both backcountry and freeride skiers. Hardshell jackets are made from a layered membrane technology that keeps the elements on the outside and warmth on the inside. Often made with lightweight and breathable materials, hardshells can be worn year round. They can be easily layered for very cold weather, or worn alone for high-intensity skiing, skinning up or in warmer weather.
Softshell Ski Jackets
Best for high activity and cool or warm dry days.
Softshells are ideal for high intensity outdoor activities like hiking and ski touring, as they are designed to move with your body. They are lightweight, breathable, and water-resistant, so they serve as a good midlayer when paired with a hardshell or as a stand alone option in dry weather. A softshell ski jacket offers more stretch when compared to the hardshell, often made with woven fabrics like polyester and nylon and lined with fleece for comfort and warmth. A softshell won't protect you in extreme conditions but it will hold up in light to moderate rain or snow.
Insulated Ski Jackets
Best for cold to very cold days.
When the weather turns cold, insulated jackets are your go-to (make sure that the outer shell of the jacket is fully waterproof). An insulated ski jacket is the warmest on the list as it has a layer of down or synthetic insulation built into the outer shell. This insulated lining works to trap body heat, so you don't have to worry about adding your own layers. The amount of insulation in the jacket is measured in grams per square meter; the higher the grams the warmer the jacket (can range between 80g and 200g). Insulated jackets are ideal for beginners, as output and effort may be lower than more experienced skiers, so the extra warmth comes in handy. They are also essential for kids, as children are more sensitive to colder temperatures.
3-in-1 Ski Jackets
Best for all-weather versatility.
A 3-in-1 ski jacket is a hardshell or waterproof jacket that has an insulated layer zipped into it, making it the most versatile option in the lineup. It is a great option if you'll be skiing in different locations, temperatures and conditions. The outer shell will be breathable, windproof and waterproof, and when worn alone, it's ideal for high activity skiing or milder spring days. When necessary, you can zip the insulated liner into the jacket for extra warmth on cold days or times of low-activity. This jacket is a great option for those who like to keep things simple, as you won't need to purchase multiple jackets to adapt to changing weather.
Ski Jacket Insulation
Ski jacket insulation comes in a range of different options but will mostly boil down to either down or synthetic insulation. Deciding on which type of insulation is best for you will depend on
What Is a Down Jacket?
Best for very cold and dry conditions.
A down jacket is insulated with goose or duck down – or sometimes both. An incredibly warm and lightweight form of insulation, these small under-feathers are breathable, compressible and ultra-fluffy. Measured in loft or fill power, this fluffiness traps air and the heat from your body in tiny pockets to keep you warm. Ranging from 300 to 900 fill power, the higher the number, the greater the insulation. Down clothing also packs down easily, making it a great space saver and ideal for stashing in your travel bag or ski pack.
What's the catch? While down jackets are extremely warm when dry, moisture from your body, rain or snow will cause the down to clump together and lose its insulating firepower. It also carries a higher price tag than its synthetic counterpart.
What Is Synthetic Insulation?
Best for cold and wet (to very wet) conditions.
Synthetic insulation mimics the qualities of down, but there are key differences. Rather than feathers, synthetic insulation is made from small polyester fibers. It works in the same way by creating air pockets to trap heat. Although synthetic insulation has made huge advances in mimicking the loftiness of down, it's not quite as lightweight or compressible. Where it shines is in its water-resistance which keeps the filaments from absorbing water so they stay light and warm, making it much more effective than down in wet conditions or at times of high activity. It is often more cost-effective than down options.
What Is Hybrid Insulation?
Best of both worlds
Hybrid insulation is a mix of down and synthetic insulation. By using both materials, you get the best of both worlds - a lighter, warmer feeling of down with wet-weather performance and a lower price tag. While these jackets may hold up better than full down insulation in very wet conditions, they will not be as effective as full synthetic insulation.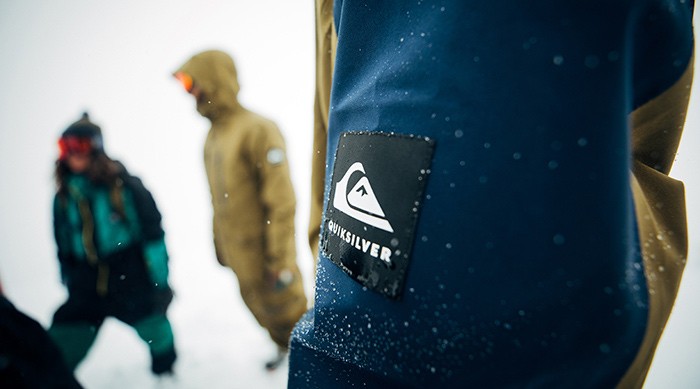 Weather Protection: Water Resistant and Waterproof Rating
Water Resistance
Water resistance is a classification for fabric that has a durable water-repellent finish on it. Water resistant jackets will keep you dry for a limited time in light rain conditions, but they can only hold up against a certain amount of moisture. Soft shell jackets are typically water resistant.
Waterproof Materials
Waterproof materials will keep your body dry in wet conditions. Look for an outer shell layer that is waterproof.
This chart shows waterproof ratings for fabric, how they are classified, and what conditions the fabric will keep you dry in. The higher the rating, the more waterproof the fabric.
| Ratings | Protection | Conditions |
| --- | --- | --- |
| <5,000 mm | Water Resistant | Light rain or snow |
| 5,000 mm - 15,000 mm | Waterproof | Moderate rain or snow |
| 15,000 mm - 20,000 mm | High Waterproofing | Heavy rain and wet snow |
Types of Waterproof Fabric
There are a few types of waterproof fabric to look for when buying a ski jacket. A few common fabrics are coated fabrics and laminates or membranes as well as trademarked fabrics like Gore-Tex. Some brands have more specific names for their waterproof materials. When looking at waterproof fabric materials, consider the waterproof rating as well as the breathability of the jacket.
Seams/Taping
Taped seams are a feature found in highly waterproof jackets. A strip of waterproof fabric is laid along the inside seam where the fabric is sewn together, to make sure that water doesn't seep through the stitching. There are two types of taped seams:
Critically Taped: Seams are taped in critical, most exposed locations on a jacket - the parts that snow hits hardest like the head, neck, and shoulders.
Fully Taped: All seams in the jacket are taped, including the arms and body. Fully taped seams are often found in jackets with a high waterproof rating.
Breathability Rating
The breathability of a jacket refers to how much body heat it lets out, which is important during physical activities that make you sweat a lot. High breathability will help keep you comfortable and dry even during intense ski runs. A breathability rating categorizes how breathable the fabrics in a jacket are. The rating is calculated based on the Moisture Vapor Transmission Rate (MVTR), which measures the amount of water vapor that passes through a substance, or in this case, fabric.
| Breathability | Rating | Explanation |
| --- | --- | --- |
| High Breathability | 15,000g + | High activity such as uphill touring, or any skiing that makes you sweat |
| Moderate Breathability | 10,000-15,000g + | Moderately high energy/activity skiing |
| Mild to Low Breathability | <10,000g | Lift served skiing with frequent breaks, lower activity |
How Should Your Jacket Fit?
The fit of a ski jacket impacts style, functionality, and performance. When buying a ski jacket, you'll want to make sure that you find a fit that works the best for you.
Slim Fit
Slim fit ski jackets are tailored to the body's natural shape, and are more fitted around the waist and shoulders. This jacket is tighter fitting and offers a stylish and more modern looking fit. Because slim fit jackets are tighter, you may have less room for layering. This can be solved by buying an insulated jacket so that you only need minimal layering underneath.
Regular Fit
A regular fit jacket has a straight shape throughout the body, and is neither tight fitting or loose. A well sized regular fit jacket should have enough room for layering.
Relaxed Fit
A relaxed fit jacket is looser and oversized. They also tend to be longer in length, often coming a few inches past the hips for extra coverage. Because of this, options for layering are endless. Remember that if a jacket is too long you won't be able to move your legs very well, so make sure it's not longer than a few inches past your hips.
Ski Jacket Features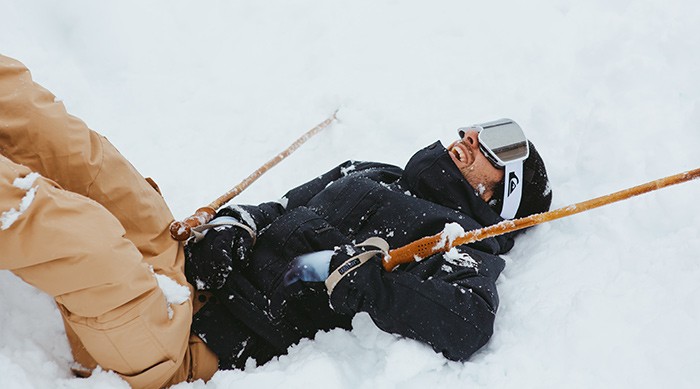 Many ski jackets have additional features that enhance their function and durability. We'll explain why the features below are great options to have on any jacket.
Snow skirt
Hood features
Attachment systems
Waterproof pockets and zips
Cuffs
Linings
Vents
Snow Skirt
A snow skirt, or powder cuff, is an elastic material that is located on the inside of a ski jacket a few inches above the hem. It's a common feature that stops snow from coming up and under your jacket if you fall. The elastic cuff hugs your waist, and has snaps or a zipper that fastens in the front, so it is easy to undo the cuff when you want to remove your jacket.
Hood Features
There are a few hood features on ski jackets. Some hoods are removable tanks to zippers or snaps. Some have an elastic bungee in the back so you can tighten the hood on windy days to make sure it stays on over a helmet.
Attachment Systems
Most ski jackets have systems that attach the jacket to your pants to keep snow out of the inside of your jacket when you fall or are skiing in deep snow. Note that ski pants must be compatible with the attachment system, or at least have belt loops to fasten to the jacket.
Waterproof Pockets and Zips
Ski jackets with a high waterproof rating will often feature waterproof pockets and zippers. A waterproof pocket keeps your phone or any other valuable dry and secure while you're skiing. Waterproof zippers are concealed by a waterproof seam on the outside of the zipper that prevents any water from leaking in through the teeth.
Cuffs
The cuffs on the sleeve of a ski jacket are often a bit wider than the rest of the arm, this allows for a mitten or glove to be tucked into the sleeve. The bottom cuffs of a ski jacket are sometimes reinforced with a more durable fabric to prevent rips when sitting down.
Linings
The lining of a ski jacket depends on the type you buy. A hardshell jacket is lined with a waterproof shell, a softshell jacket is often lined with thin fleece, and an insulated jacket will be lined with whatever insulation is used in the jacket.
Vents
Vents are an important feature of a ski jacket as they allow you to get more breathability by increasing air flow. Zipper vents are often found under the arms and along the torso of a jacket. They're a great feature to have, especially if the material of your jacket isn't breathable enough on a warmer day.
Discover Quiksilver Ski Jackets