How to Choose Ski Pants and Snow Bibs
When you're on the mountain, it is key to keep the lower half of your body warm with ski pants that allow you the freedom of movement you need to ski your best. Just like finding a great jacket, there are many technical features, types, and styles to consider when buying a pair of ski pants. This guide gives you tips to help you choose the perfect pair of ski pants or snow bibs.
What Is the Difference Between Ski Pants and Snow Bibs?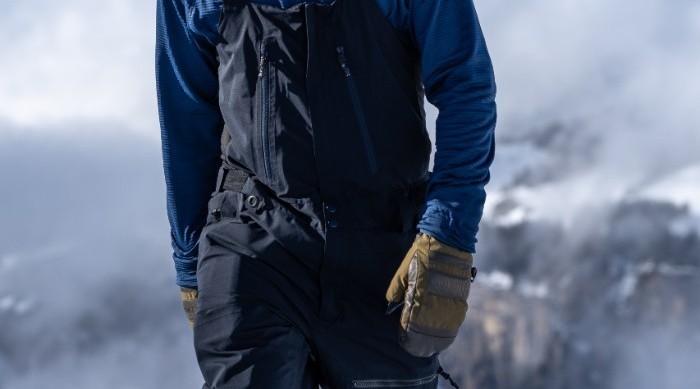 Ski pants go on just like a regular pair of pants, and have a zipper and button that fasten at the waist. Snow bibs are different because they extend up over the waist to the chest, and stay put with shoulder straps, like a pair of overalls. Bibs offer an added layer to the midsection and do a great job at preventing snow from getting inside your pants. Each of the below types and styles of ski pants can also come in bib form.
What Are the Different Types of Ski Pants and Bibs?
Stretch Ski Pants
Soft Shell Ski Pants
Shell Ski Pants
Insulated Ski Pants
3-In-1 Ski Pants
Stretch Ski Pants
Best for warm, dry days.
A pair of stretch pants or bibs are a low-profile, stylish option. They are often slim-fitting, and great for people who don't like bulky clothing. The material is usually water resistant rather than fully waterproof, so they are best for dry days. Stretch pants are made from a stretchy, breathable fabric, making them a great option for spring-like days.
Soft Shell Ski Pants
Best for warm, dry or light precipitation & high activity days.
When you are planning a high activity day, such as ski touring, soft shell ski pants or bibs are your go-to. The material is both breathable and stretchy, and is made from technical, water-resistant fabrics that will move with your body. Soft shell ski pants or bibs are uninsulated, but often lined with a soft fleece material, which is why they're perfect for warmer days or days when you will be extra active.
Shell Ski Pants
Best for warm or cold, heavy precipitation days.
Shell ski pants and bibs will offer the best protection from the elements. They will keep your legs protected from even the harshest wind or rain. Although they aren't insulated, the shell will protect you from the cold, making them a suitable option for mildly cold days. If you ski in an area where rain or wet snow is common, or where the weather can be unpredictable, shell pants are a must-have to make sure you stay dry.
Insulated Ski Pants
Best for cold to very cold days.
Insulated ski pants and bibs are ideal for cold days, and a great option for beginners who won't be highly active while skiing. This option is lined with a synthetic insulation that traps body heat. The synthetic material is typically made from a quick-drying polyester that will do its job of insulating even if it gets wet. Not all insulated pants are considered waterproof, so be sure to check on the waterproofing in the description of the pants. They are the best everyday option, as most winter days are cold enough to need insulation. If you do tend to run warmer, many pairs come with vents in case you need to let some heat out.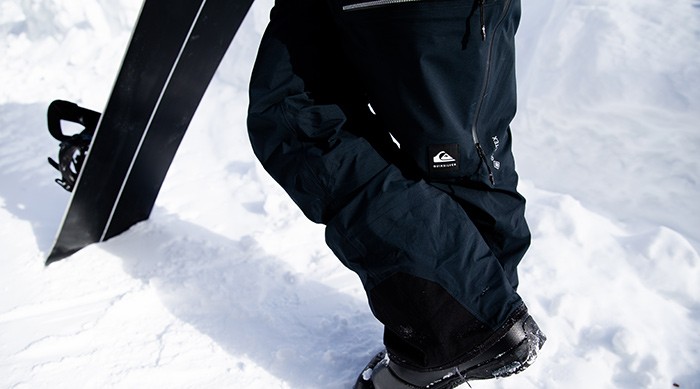 How To Choose Your Style, Size and Fit
Slim Fit
Slim fit ski pants have a modern, more athletic look. They are form fitting on the lower body, and the length is often shorter in the legs to create a more tailored look around the ankles. Make sure you look for stretchy materials so they don't restrict movement in your legs. Slim fit pants are great if you want tighter fitting ski pants that move with you as you turn.
Regular Fit
Regular fit ski pants suit all body types. They are looser fitting than slim fit pants and are cut with a straight leg. They should fit loosely on your body but not be too baggy – this provides room for layering on extra cold days. Regular fit pants are average length, finishing around your ankles when wearing ski boots. This is your go-to if you want a classic look that's tailored but still gives you plenty of movement in the lower body.
Relaxed Fit
Relaxed fit ski pants offer the most leg room. They are cut wider in the back and thigh, making them the loosest fitting option. The pant leg often extends a few inches past your ankles, depending how tall you are. If you like to add multiple layers on your lower body, or if you simply like looser fitting clothing, relaxed fit might be your best option for ski pants.
Linings and Warmth Factor
All ski pants have different inner linings that vary based on the different types of pants.
Softshell and stretch ski pants are often lined with a thin layer of fleece that provides an added layer without compromising the flexibility of the pants.
Hard shell ski pants do not have a lining at all, and the inner layer will have the same waterproof feel as the outer layer. When it's cold, wear multiple, or heavier base layers under hard shell pants as they don't have any insulation or lining for added warmth.
Insulated pants are the warmest option. Like stretch and soft shell pants, the innermost layer is often lined with thin fleece, but insulated pants also offer a layer of synthetic insulation between the inner lining and outer shell, to trap body heat against the skin.
Water Resistance & Waterproofing
All ski pants and bibs are either water resistant or waterproof.
Water resistant pants are made with a shell material that has a water-repellent finish. Ski pants that are water resistant will help to keep you dry in light precipitation, but will not stay dry with heavy moisture. Generally, stretch pants and soft shell pants are water resistant.
Waterproof ski pants will be coated in a material or membrane that stops moisture – like melted snow – from penetrating the outer shell of the pants, and will keep your legs dry in even the wettest conditions. Good quality waterproofing will offer a level of breathability too (see below). Hard shell ski pants are waterproof, and insulated pants can be either water resistant or waterproof.
Waterproof Ratings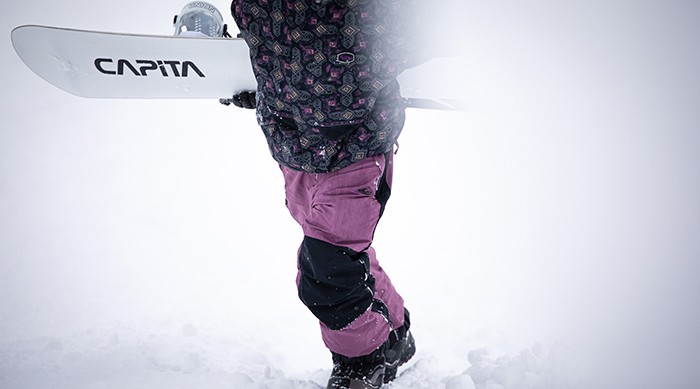 Waterproof ratings are graded in millimeters and measure the amount of pressure the fabric withstands before water passes through. The higher the rating, the more waterproof the fabric is. Below, we've outlined the protection offered by common waterproof ratings and the level you need for the conditions you ski in.
Protection Level: Light rain or snow — <5000 mm
Less than 5000 mm is considered water resistant, and will only protect you from light rain or snow for a short period of time. Ski pants with this level of waterproofing should only be worn on warmer days with little to no precipitation.
Protection Level: Moderate rain or snow — 5,000 mm - 10,000 mm
5,000 mm to 10,000 mm is a versatile waterproofing level. They will both protect you in moderate rain and snow. 5,000mm, or 5K, is best suited to intermittent moisture, whereas 10,000mm, or 10K, offers a higher level of waterproofing protection that will keep you dry during longer days in wet conditions.
Protection Level: Heavy rain and wet snow — 15,000 mm - 20,000 mm
15,000mm to 20,000mm will protect you in constant heavy rain and wet snow. If you ski in locations with high levels of humidity, or where wet precipitation is common in the winter, you should make sure that your ski pants have a rating of at least 15,000mm to keep your legs dry.
Seams/Taping
Critically taped seams: These seams are taped, meaning they have a strip of waterproof fabric along the inside seam of areas that are most exposed to rain and snow, like the backside and the crotch, which can collect water from sitting on the chairlift.
Fully taped seams:Fully taped seams are mostly found in hard shell pants with the highest waterproof rating. Every seam will be fully taped to make sure that no moisture gets in.
Breathability
Breathability is key when choosing the right pair of pants. The type of fabric and shell, as well as venting, contribute to breathability. Generally, the most waterproof and insulated pants are not the most breathable as they are designed to keep you warm and dry. You'll find the most breathable fabrics in softshell ski pants. If you tend to run warmer, or want a pair of pants you can use on spring days, make sure to check the breathability of the type of pants you purchase.
Vents
Venting also increases the breathability of ski pants and can be found in insulated or hard shell ski pants. Vents are zippered openings, usually located in the upper inseam of the pants, or around the hips. When unzipped, they release heat and vapor from your body to keep you dry.
Key Features
There are a few technical features that can be found on ski pants. Each additional feature provides an important function to a pair of ski pants, but you don't necessarily need every single feature. Consider the type of skiing you do, how many days per year you will use your ski pants, and then determine which features are going to be the most beneficial to you.
Ticket holder
Ski pants often come with a ticket holder attached to the pants. This is generally a small fabric or plastic loop that allows you to fasten your lift ticket to your pants so it stays put, right where you need it.
Integrated Snow Gaiters
Snow gaiters prevent snow from getting inside your boots or ski pants. Ski pants should be lined with a stretchy gaiter that extends from the ankle to a few inches past the hem. When the elastic gaiter is pulled over the boots, it keeps snow out and your legs warm and dry.
Cuff Reinforcement
The bottom cuffs of your ski pants will take a beating from everyday use. Cuff reinforcement prolongs the lifespan of your pants, as the more durable fabric surrounding the cuffs prevents rips and scuffs from walking, as well as damage from your ski bindings.
Pockets and Zips
The location of pockets and zippers will vary based on the types and brand of ski pants. Most pants have front and back zippered pockets, and some will have a thigh pocket to fit larger items.
Reinforced Knees
This feature is similar to cuff reinforcement. A layer of more durable fabric is added over the knee area, to prevent damage from consistent use and from kneeling in the snow.
Zip Ankle Openings
This feature is mostly found on slim fit, relaxed fit and stretch pants. A vertical zipper is set on the inner or outer ankle. This gives you more room on the bottom of tighter fitting pants to make sure that they can fit over a boot.
Waistbands
Waistbands of ski pants are similar to regular pants with a front zipper that fastens with a snap or metal hook. Sometimes the waistband will be elastic to accommodate varying waist sizes, and often has belt loops.
Scuff Guards
Scuff guards are similar to cuff reinforcement around the ankle. Rather than covering the entire cuff of the ski pants, a scuff guard is a layer of durable fabric located on the inner bottom few inches of ski pants to prevent scuff marks and damage from walking in ski boots.
Discover Quiksilver Ski Pants