How to Dress for Skiing: The Essentials
There are many things to consider when choosing the right ski gear and clothing for a day in the mountains. You must consider the functionality, comfort, and warmth of everything that you wear. Below we'll highlight the essentials, and what you need to consider for a day of skiing.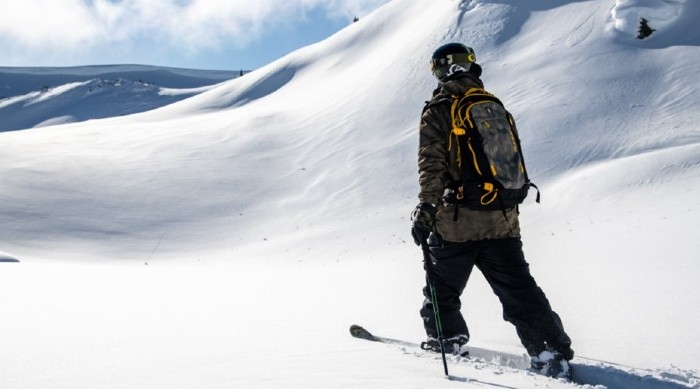 Skiing Packing List
Here's a list of everything you need to bring for a successful trip and advice.
Ski Clothing
Base layer and mid layer
Ski jacket
Ski pants
Ski gloves
Ski socks
Ski Gear
What Is the Best Thing to Wear While Skiing?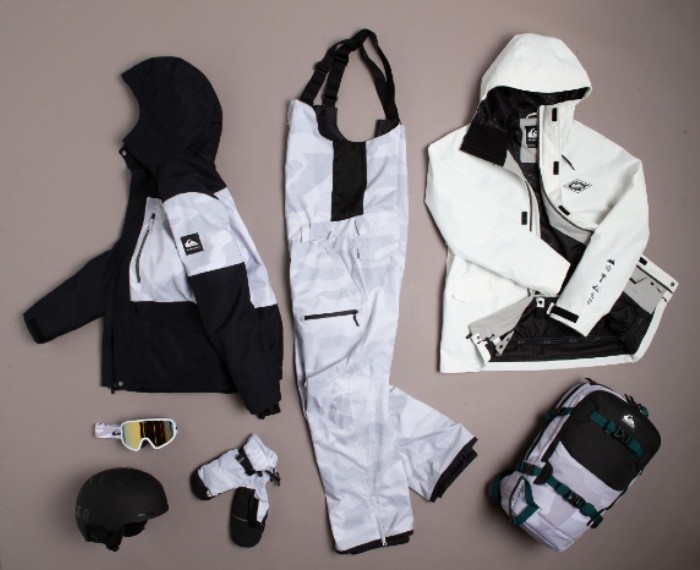 Staying warm and dry while skiing all day is every skier's dream. The clothes you wear have a huge impact on your comfort levels, especially on those colder winter days. It's important to consider the material of your clothing and how it will protect you from the elements and your sweat. The right materials will help keep you at optimal temperature, whether it's a spring day or well below freezing.
How Do You Layer for Skiing?
Layering your clothing for a day of skiing is crucial to staying warm. A great rule of thumb is to use the three-layer system.
Base layer: A layer of tight-fitting long underwear, which will work to wick away moisture from sweat.
Mid layer: A layer such as a light down jacket or thick sweater to trap body heat and insulate.
Outer layer: A jacket that's waterproof with the ability to protect you from rain, wind, and snow.
Ski Jackets
A ski jacket is typically categorized as being either a shell jacket or an insulated jacket.
Shell Jacket: A shell jacket is designed to keep you dry. It's a thinner, non-insulated jacket made of waterproof and windproof material. Most people opt to wear a mid layer underneath for warmth.
Insulated Jacket: An insulated jacket provides both insulation and the protection of an outer layer. These jackets will be thicker and offer more warmth than just using a shell. The insulation is often made from down or synthetic down, which helps to trap heat. It's important to note that the outer shell of an insulated jacket will not always be waterproof.
Other important specs to consider include breathability, jacket seams, and waterproof rating.
Shop Ski Jackets
Ski Pants
A good pair of ski pants is another important choice when outfitting your ski wardrobe. Ski pants are often classified as being insulated or just a shell. Unless you're only using them on warm spring days or for uphill ski touring, an insulated pair will be the best way to go.
No one wants a cold butt after sitting on a snowy chair. Here are some other technical factors that you should consider.
Built-in gaiters: Gaiters are a separate fabric lining located inside the outer shell of ski pants. The gaiter is pulled over the ski boot to keep snow out of the boot and inner pant leg after a fall.
Venting: Zipper vents are on the inside or outside of the thigh of ski pants. They're great on warm days for breathability. Look for waterproof seams on the zippers to make sure that the vents won't let cold air in when they are zipped.
Cuff Reinforcement: The bottom few inches of a ski pant leg can get beat up. Rips are common from metal ski bindings and edges, and ski boots can cause scuff marks when walking. A cuff reinforcement is a tougher piece of fabric sewn into the inside and bottom cuff of ski pants and will help protect the area from damage.
Shop Ski Pants
Ski Helmets
A ski helmet is an essential piece of safety gear for any day on the slopes. It is necessary regardless of your level. Wearing a helmet is the best protection against a head injury from a ski crash. Look for ones with recognized safety certifications, as this technology will better protect your head from impact.
It's important to get the right fit when choosing your helmet. It won't protect you if it's too loose or too tight. Helmets have a whole host of features and technologies to choose from. There are many options for venting, padding, color, design, and impact protection systems.
Ski Gloves
Both ski mittens and gloves are made from a range of materials. Most are insulated, with an outer shell made of nylon or leather. There are a few things to bear in mind when choosing mittens or gloves for a day of skiing, but it mostly comes down to personal preference.
Mittens: Mittens keep your fingers together except for your thumb. They are the warmer option, as they combine the body heat from the entire hand.
Gloves: Gloves have each finger separated, so they are not as warm. Some find it easier to hold a ski pole with gloves rather than mittens.
Shop Ski Gloves
Ski Goggles
Goggle lenses work to help you to get the best visibility whatever the weather. On sunny days, you need a dark lens to protect your eyes from UV rays. On dark, cloudy, or snowy days, you'll want a light pair of lenses that will brighten the surface of the snow and increase visibility. Anti-fog is also a large component to consider. There's nothing worse than a fogged pair of goggles on a wet day, so be sure to check if the lens has anti-fog properties.
There's no standard frame size or shape when it comes to ski goggles. When choosing a pair to fit with your helmet, avoid having gaps at the top of the forehead and around the temples. The goggles should fit snugly to both your face and your helmet.
Ski Boots
Ski boots are constructed from a stiff plastic shell with an interior liner, and they fasten with two buckles over the foot and two on the shin. When determining what ski boot is right for you, flex and fit are your primary considerations.
Fit: It is a very common mistake for first-time skier's to buy ski boots in a size too large, as they will feel more comfortable. As a rule of thumb, always go for the snuggest possible fit. You want to make sure that your feet are touching the end of the plastic shell when the liner is removed. It is always best to try ski boots on in person so that you can check if the fit is correct.
Flex: The flex index of a boot indicates how stiff the boot is. Advanced skiers will ski in a stiff boot that has a higher rating. For beginners, it is best to go for a softer flex so you can put shin pressure on the front of the boot when making a turn.
What Else Do You Need for Skiing?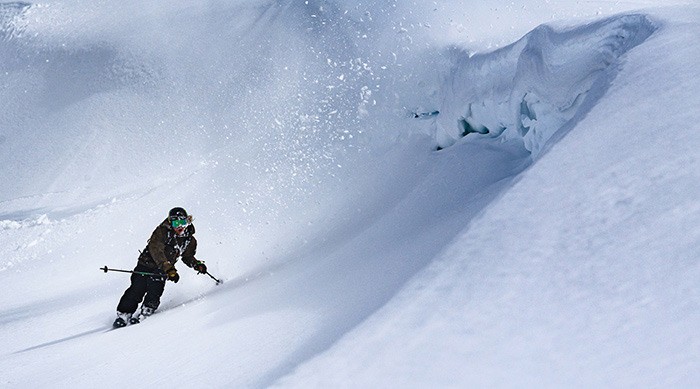 Winter Hats/Beanies
Some people opt to wear a thin beanie under their helmet for added warmth. Make sure to find one that is thin enough so it won't affect the fit of your helmet. These thin beanies are often made of silk or merino wool and work to wick sweat from your head and keep you warm. It will come in handy to hide helmet hair too.
Shop Snow Beanies
Neck Warmers
A neck warmer is a fabric lining worn around the neck and face for added warmth and sun protection. Neck warmers come in a range of materials. Some are a thicker material, often fleece, to keep the neck and face warm against the cold. Others are much thinner and more breathable, sometimes silk or polyester, which are great for sun protection on days when it's too warm to cover your face with a thick neck warmer.
Shop Neck Warmers
Ski Socks
Wet and cold feet make for a rough ski day. Your choice of ski socks has a huge impact on the comfort levels of your feet. It might seem warmer to wear two pairs of socks rather than one, but this will reduce the breathability of both pairs, making your feet sweat more. Once that sweat freezes, your feet will be cold. Stick with one pair of socks, and make sure you look for moisture-wicking and warm materials such as merino wool.
Make sure you buy a pair specific for skiing, so that they extend past the top of the ski boot when they're on. They aren't one size fits all, so make sure you get the correct size to reduce discomfort of excess material bunching up in the ski boot.
Shop Winter Essentials