How to Dress for Snowboarding: The Essentials
Whether you're a beginner or a seasoned pro, you want to be prepared for whatever the mountain sends your way. From this guide, we'll cover all the clothing and gear you need for an epic day snowboarding.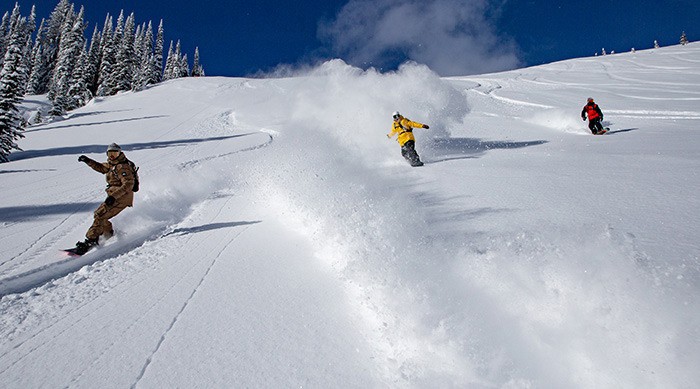 Snowboarding Packing List
Remember to pack these essentials before you head up to the mountains.
Snowboard Clothing
Base layer and mid layer
Snowboard jacket
Snowboard pants
Gloves
Snowboard socks
Winter hat/beanie
Neck warmer
Snowboarding Gear
Snowboard boots
Goggles
Helmet
What To Wear for Your First Time Snowboarding?
As a snowboarder, you can be exposed to some serious weather. The clothes you pick for a day on the mountain will have a huge impact on your comfort level and ability to perform. You never want to cut a day riding short because you're cold and wet. Follow our tips to stay comfortable until the last lifts, no matter the conditions.
Snowboarding Essentials: Layers
Understanding the basic layering system will help to keep you warm and dry. This involves wearing at least three layers of clothing, each a different material with a specific function.
Base layer: A base layer is going to be a skin-tight top and bottom that serves as a way to wick sweat from your body. It's best to buy base layers in moisture-wicking materials, such as merino wool or polyester and keep an eye out for technology like body-mapping for temperature control and seamless construction for extra comfort.
Mid layer: A mid layer traps the heat that your body generates, acting as insulation to keep you warm.
Outer layer: An outer layer protects you from external elements such as rain, wind, or snow, and will be a waterproof snowboard jacket or shell.
Shop Snow Fleece
Snowboard Jackets
Snowboard jackets are classified as being either insulated or a shell.
Insulated Jackets: An insulated jacket is used to insulate your body heat as well as protect you from the elements. It combines both the mid layer and the outer layer in one and will be the warmest jacket option.
Shell Jackets: A shell jacket is not insulated, and it protects from snow, wind, and rain. As it's designed for high-activity, it doesn't offer much warmth, so it is recommended to use it with thicker insulating layers on colder days or at times of low activity.
Whichever jacket you choose, snowboard jackets often have a loose and relaxed fit. They tend to be longer than regular winter jackets, to cover you when sitting in the snow. They also vary in terms of style, waterproofing, and breathability.
Shop Snow Jackets
Snowboard Pants
A good pair of snowboard pants is crucial. Snowboarders, especially beginners, can spend a good amount of time sitting in the snow. You'll want a pair of snowboard pants that are both insulated and waterproof to keep your legs warm when riding, resting and taking the lift. As well as insulation and waterproofing, look for built-in gaiters, venting, and cuff reinforcements.
Built-in gaiters: A gaiter is an elastic lining inside the pant leg that hooks onto your snowboard boots. They protect your pants from getting packed with snow. When you ride powder or stop on steep slopes, your legs can get sprayed with snow, and the gaiters stop it from getting inside your pant legs.
Venting: Although snowboard pants are designed to be warm, most pairs will also have some type of venting system. The vents will be in a zipper form, where you simply unzip the vent when you get hot or want to let your legs breathe.
Cuff reinforcement: Because snowboard pants often run long, cuff reinforcement is crucial. Without it, the cuff of your pants will rip after walking in them over paving and streets.
Similar to the jacket, a pair of snowboard pants often have a more relaxed fit.
Shop Snow Pants
Gloves & Mittens
When choosing a pair of gloves or mittens for snowboarding, you need to consider both insulation and waterproofing to keep your hands warm and dry. However, there are also some advantages and disadvantages to choosing gloves over mittens.
Gloves: Because gloves keep your fingers separated, they provide better dexterity than a pair of mittens. Dexterity is important, as it will help you to unstrap your boot from your binding before each lift ride.
Mittens: Since mittens keep your fingers together they are the warmer option. While it is possible to unstrap from your bindings with mittens on, you will sacrifice some dexterity.
Shop Snow Gloves
What Snowboarding Gear Do I Need?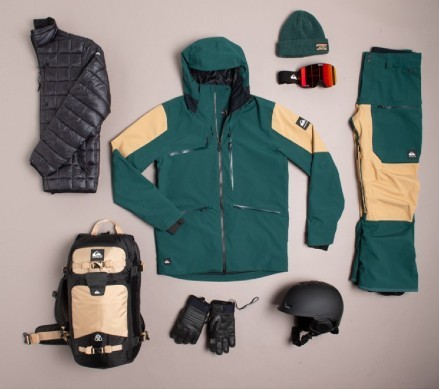 In addition to the clothing, there are a few essential items of snowboard gear that you will need for a day riding.
Snowboard Helmets
A helmet is the most important piece of gear on this list. It will protect your head when you fall while snowboarding. It will also keep your head much warmer than just a hat would. Snowboard helmets with a recognized safety certification will be the safest option. Try on your helmet beforehand to make sure you have the proper fit. The helmet should fit snugly and feel comfortable.
Snowboard helmets differ greatly from bike helmets. They're much more durable and protective, and are designed for greater impact, as you'll be going much faster on a snowboard than you would on a bike. Make sure to buy a snowboard or ski-specific helmet.
All snowboard helmets will have soft-ear padding with generic sizing. Try the helmet on to make sure you have the best fit and protection.
Snowboard Goggles
A good pair of goggles will protect your eyes from sun and wind while giving you the best visibility. It is crucial to find a pair that fits well with your helmet. Whether you put the goggle strap under or over the helmet when snowboarding, you want to make sure the face of the goggles fits well with your helmet. Minimizing gaps around the face will keep you much warmer.
When selecting the goggle lens, it is helpful to have more than one lens. You'll need a dark lens to shade your eyes on sunny days, and a light lens to brighten the surface of the snow on cloudy or snowy days. Make sure that the lens has anti-fog properties to give you the best visibility when riding on wet days.
Snowboard Boots
There are a few important things to consider when choosing a pair of snowboard boots.
Fit: Snowboard boot size corresponds to shoe size, but it may vary between brands. Make sure you get a close fit by also looking at the mondo size of the boot, which is the length in centimeters of the inner sole. This number should correspond to the length of your foot. The fit is absolutely essential for performance, and the boot should feel snug in all areas of the foot.
Flex: The flex of a snowboard boot corresponds with how stiff it is. Snowboard boots are generally classified as being soft, medium, or hard flex. Flex correlates to personal preference and riding ability, and most beginners should start with a softer flex boot.
Lacing: Snowboard boots will have two layers of lacing. There is a lacing on the inner liner, and also laces on the outer shell, for the purpose of tightening the liner and boot. There are three types of lace styles. Traditional laces tighten just like regular shoe laces, quick-pull laces allow you to pull the laces tight and then fasten them, and Boa laces will have a dial that you spin to tighten and loosen. All snowboard boots will have a variation of these lace styles on the inner liner and outside shell.
Footbeds: Footbeds can make a pair of snowboard boots fit even better. They can be custom made by a boot fitter to accommodate the shape of the foot.
What Else Do You Need for Snowboarding?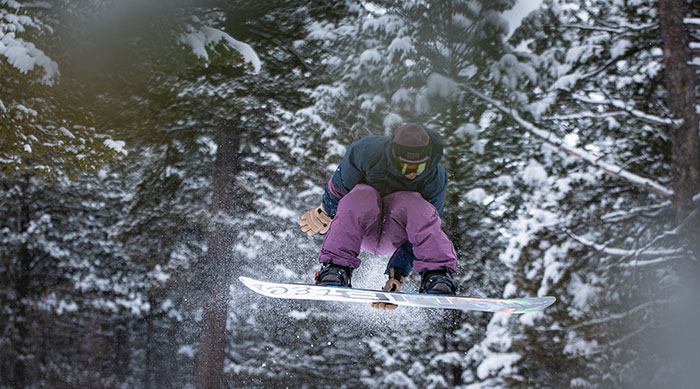 Winter Hats/Beanies
You can wear a thin hat under your helmet for added warmth, but it should not alter the fit of your helmet. If you want to wear a hat when you wouldn't be wearing a helmet, such as while riding the chairlift or while eating lunch in the lodge, any winter hat or beanie will suffice. Look for warm and insulating materials such as fleece or wool.
Shop Snow Beanies
Neck Warmers
A neck warmer will be your best friend when riding on very cold days and on very sunny days. It is a scarf-like sock that you wear around your neck. It is common to pull a neck warmer up over your face, and even tuck it into your goggles and helmet to completely cover your face. This offers protection from the cold, as well as protection from UV rays on sunny days.
Shop Neck Warmers
Snowboard Socks
Look for moisture-wicking and breathable materials when choosing snowboard socks. They need to wick the sweat from your feet before it freezes. Never layer socks, as it will reduce breathability and make your feet colder. The sock should extend just past the top of the boot, and should be tight-fitting to make sure that there won't be any uncomfortable wrinkles in the boot.