The Ultimate Guide to Boardshorts and Swimwear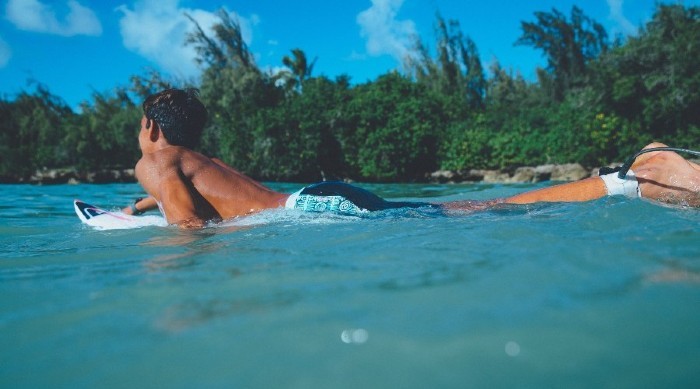 Gearing up for the water seems easy enough, right? Throw on some shorts and go have fun. But choosing the right shorts will make a world of difference.
From the technical differences between each type of short to care, fit, and style tips, here's everything you need to decide between board shorts vs swim trunks.
Boardshorts vs. Swim Trunks: What Sets Them Apart?
Board shorts are designed specifically for surfing so they stay up on your waist and move with your body. If you're – surfing, paddling or wakeboarding – board shorts are a must but all board shorts double up as swim trunks, so if you're getting wet, they'll do the trick.
If you're chilling on the beach or poolside, trunks include everything from swim shorts to beach shorts to amphibians. Amphibians – or hybrid shorts – are men's swimwear that look and fit like non-water shorts but are made from board short material. So they're swim shorts that look like street shorts when you're away from the water.
Beach shorts are constructed with a board short waist and swimsuit material but feature handy side pockets for convenience.
Volleys are less technical than board shorts. They feature a comfortable elastic waist with drawstring closure and roomy hand pockets. Volleys are an easy choice for hanging at the beach and casual dips. They often feature shorter lengths, soft materials and a laid-back fit with plenty of room to move.
SHOP BOARDSHORTS
What Are Boardshorts Anyway?
Also known as boardies, board shorts are shorts designed specifically for surfing but are perfect for other high-intensity water activities like wakeboarding, wakesurfing, bodysurfing and spearfishing.
Boardies don't have hand pockets on the side. They can feature one back pocket or maybe a side pocket – originally designed to take surf wax into the water with you. Board shorts have a fixed waist with a lace cinch that tightens firmly. Board shorts vary in length from 16-20 inches, generally sitting just above the knee. Most modern board shorts feature a four-way stretch material that gives you freedom to move and dries quickly when you're out of the water.
How To Wear Boardshorts: How Long Should My Boardshorts Be?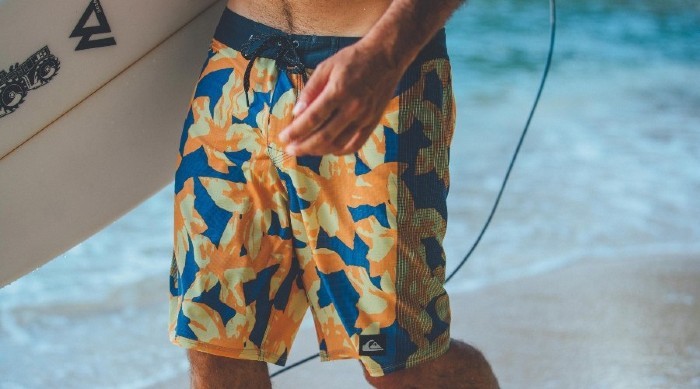 Length is a question of personal style and changing trends. Boardies in the '70s left little to the imagination while board shorts in the '90s were a few inches short of being pants. For a good balance of form and function, surf trunks should hit above the knee. That way you can move freely but won't make anyone blush if a takeoff doesn't go as planned.
What Size Boardshort Should I Wear?
Board shorts will perform best when they fit snugly below the waist but not too tight. Go for the same waist size in inches that you wear in pants. Thanks to the drawstring closure (that ties like a shoelace) your boardies will stay put and remain comfy for all-day wear in and out of the water.
What To Wear Underneath Boardshorts?
Board shorts are unlined and most surfers go au naturel underneath. Some surfers choose swim briefs to reduce chafing on particularly long surf sessions or even compression shorts which are said to aid recovery.
Can You Wear Boardshorts Under a Wetsuit?
Board shorts are great for surfing (can be worn on their own, with a rash guard or wetsuit top). If you're wearing a full wetsuit and want something underneath, try traditional swim briefs.
What Are Compression Shorts and Should I Wear Them Under Boardshorts?
Compression shorts make a great under-short for surfing. They serve multiple functions from wicking moisture away from the skin to reduce chafing, to increasing blood circulation and aiding muscle recovery. Look for a surf-specific design that is soft and stretchy for freedom of movement when you're in the water.
How Do I Take Care of Boardshorts?
Clean, rinsed board shorts are the ticket to lasting comfort. Board short care is easy. After every wear, whether it's in the ocean or a swimming pool, rinse your boardies in freshwater and hang them in the shade to dry. After a few wears, check the tag on your shorts for how to wash your board shorts. Generally, a cold wash and a hang dry is the ticket.
What Size Swim Trunks Do I Wear?
Unlike board shorts that usually come in waist sizes by number, swim shorts are often sized from XS to XL. Find the size that comes closest within the range of your waist size. If you're between sizes, size up – the elastic waistband of swim shorts means you can easily tighten them.
How To Wash Swim Trunks?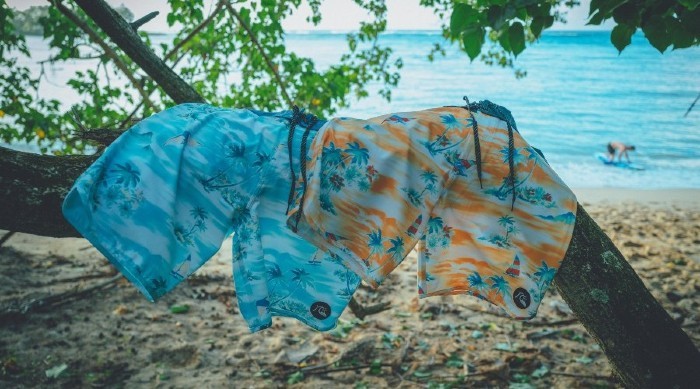 After every wear, be sure to rinse your swim shorts in fresh water and hang them to dry. When it's time for a proper wash, go with a cold wash cycle and hang your swim trunks up to dry. Always check the tag for garment-specific instructions. Whatever you do, don't let wet trunks sit around for too long.
Whatever type of swim shorts you go with, make sure you're having fun in them.