Rashguards: Everything You Need To Know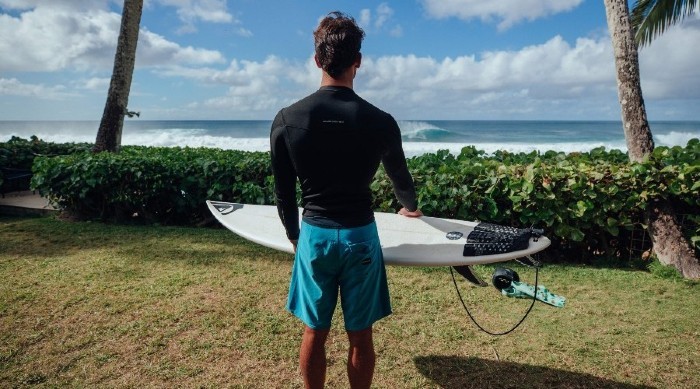 What Is a Rashguard and What Are They Used For?
A rashguard (rash guard, rashie or rash vest) is a close-fitting, thin shirt made of quick-drying synthetic material that blocks UV rays and is designed for use in and near water.
Rashguards are great for surfing, kayaking, stand-up paddleboarding, swimming and every other watersport. Rashguards provide extra protection from harmful UV rays and abrasions to the skin from sand and hard surfaces. They are an essential piece of gear for anyone spending time in or near water – whether you're hunting barrels or dodging the sun poolside.
SHOP RASHGUARDS
When Should You Wear a Rashguard?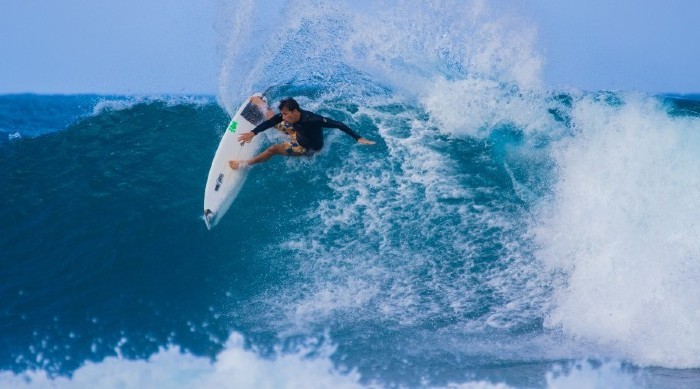 Rashguards are for anyone looking to protect their skin in sun, wind, or water. They originated with surfers in Australia who wanted to protect themselves from UV rays, sand and surf wax.
Rashguards are essential if you're anywhere there's warm water and hot sun – whether you're surfing, paddling, hanging out on the beach, by the pool. Some surfers wear a rashguard under their wetsuits for an added layer of protection against friction or with boardshorts for additional warmth in cold water or when the wind picks up.
What Are Rashguards Made Of?
Rashguards are made of a synthetic poly-elastane blend material. This blend is stretchy, durable, quick-drying and features UV-blocking and moisture-wicking properties. Designed to fit snug and close to the body, rashguards allow you to move freely and easily in the water. Many rashguards are made with chlorine-resistant materials for use in swimming pools.
Quality construction is essential when it comes to the comfort and durability of your rashguard. Every seam should feature flatlock stitching, this means the end of each piece of fabric is sewn together without overlapping. This prevents bulk, makes seams stronger, and reduces chafing while paddling or swimming.
Swim shirts and surf shirts feature the same materials and technology as rashguards but with a more relaxed fit, designed to look and feel like a t-shirt. They are made from poly-elastane blend material to provide a full range of motion and comfort. The fabric is soft to the touch but durable enough to handle long days on the water.
Keep an eye out for swim shirts that use solution-dyed fabrics as the technique reduces energy, water consumption and the impact on the environment for a more sustainable solution.
Do Rashguards Offer UV Sun Protection?
UV protection is the main benefit of wearing a rashguard. While sun protection is rated by SPF for sunscreen lotion, clothing like rashguards is rated by UPF (Ultraviolet Protection Factor). A rashguard with a UPF of 50 means that just 1/50th of the sun's UV rays reach the skin. With a rashguard, you'll enjoy sun protection throughout the day as you won't need to reapply sunscreen where you're covered.
Check rashguard specifications to confirm yours offers UPF protection. Remember to apply a base layer of sunscreen to parts that aren't covered.
What To Wear With a Rashguard?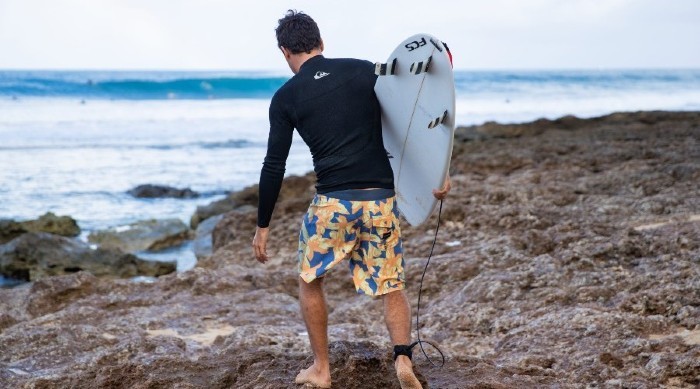 Rashguards should be worn as a base layer – that means you don't need to wear anything underneath them. If you're wearing a rashie under your wetsuit, make sure it fits snugly.
For warm water (when a wetsuit isn't necessary), pair your rashguard with your favorite boardshorts. Rashguards come in long and short sleeve options depending on how much coverage and sun protection you want. There are even hooded rashguards for extra sun and wind protection. If you're looking for a rashguard for especially hot, sunny tropical weather, consider a light color. You'll stay cooler out of the water as darker colors absorb more heat.