How To Choose the Perfect Wetsuit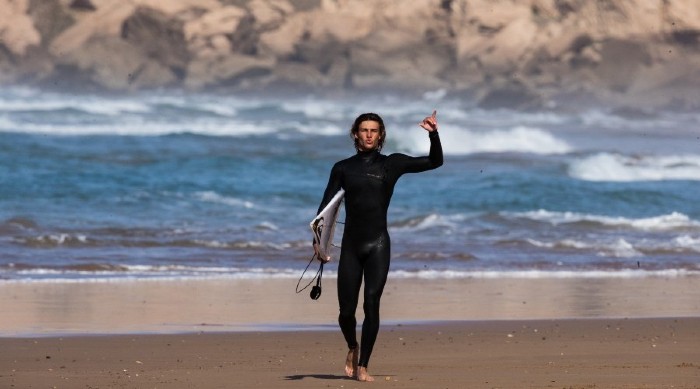 There are many types of wetsuits and picking the right one can make or break your time in the water. When choosing your suit, you'll need to consider type, fit, thickness, zip entry, neoprene and usage. We cover each of these in detail in this wetsuit guide.
What Are the Different Types of Wetsuits?
Different wetsuits are designed for different weather conditions, water temperatures and preferences.
Full Suit and Steamers: For cool to super cold water.
The classic wetsuit with full leg coverage and long sleeves. Available with a hood for extra-cold days, or with full leg coverage and short sleeves for extra mobility up top.
Spring Suit or Shorty: For the sunny seasons.
Short leg coverage hits above the knees, available with long or short sleeves. Ideal when the water is warm and the air is cool or vice versa.
Farmer John and Short John: Suns out, guns out.
Tank-style, sleeveless design with short or long leg coverage for warmth in the water and maximum arm mobility for paddling.
Wetsuit Tops and Jackets: When boardies aren't enough.
Think of them like a sweater for the water – just lighter. Available in pullover or zip-front styles.
SHOP WETSUITS
How To Get the Perfect Fit for Your Wetsuit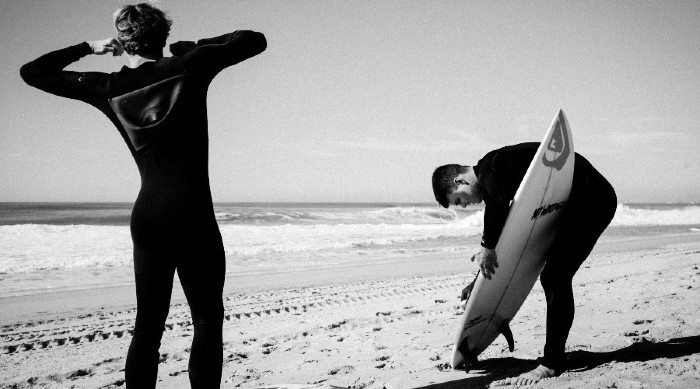 Getting the fit right is crucial to finding the perfect wetsuit. If your suit is too big it will chafe and fill with water, leaving you cold and weighed down. If your wetsuit is too tight, you'll lose mobility which will tire you out in the water – plus you'll waste energy changing for each session.
Here are our top tips on how to pick the right size wetsuit:
Height & Weight—Height is one of the most important considerations when choosing the right wetsuit size. To get a ballpark idea of where you'll land for wetsuit sizing, start with your current height and weight.
Chest Measurement—To find your chest measurement, use a tape measure to measure the circumference of your chest at its widest point. Make sure the tape is snug but not too tight.
Precision Measurements—Your chest and height measurements will get you close to the right size of suit but to get a more precise fit, repeat the measuring steps above on your neck, waist, hips and inseam.
Sizing—Wetsuit sizing follows the XS, S, M, L, XL convention with tall (T) and short (S) options for each size. Every brand (and even model) of suit is different, so be sure to consult the size chart for the particular wetsuit you're after. If possible, try on wetsuits in different sizes.
Between Sizes?—If you have longer arms or legs, size up. If your limbs are on the shorter side, size down. Still unsure? Go with the larger size – it's better to have more coverage on your arms and legs than not enough.
How Thick Does Your Wetsuit Need To Be?
Wetsuit technology has come a long way in a short time. The first wetsuits were developed in the early 1950s and would leave any modern day surfer shivering after their first duck dive. Wetsuit thickness for different temperatures comes down to personal preference and tolerance to cold, but generally the colder the water, the thicker the suit (the higher the number of millimeters of neoprene insulation).
Read our complete guide to wetsuit thickness here.
Wetsuit Zippers: Front, Back, or Zipperless?
All wetsuits feature some sort of closure and most commonly it's a zipper. Always remember, a horizontal zipper goes in front (chest zip) and a vertical zipper goes in the back (back zip). Both styles of wetsuit have their own pros and cons.
Front Zip
With the zip on the upper chest, front zip wetsuits are less prone to flushing – that means water rushing in the suit – especially when duck diving under waves. This makes front zip wetsuits warmer when surfing for a long time. Some front zip designs also allow for greater flexibility in the shoulders for improved paddling. However, there are drawbacks. Front zip wetsuits have smaller entries making them more difficult to get on and off.
Back Zip
Back zip wetsuits on the other hand are easier to get on thanks to the larger zipper opening. This can come at the expense of warmth. With the zipper opening on the back, this type of wetsuit is more prone to flushing while duck diving. If you're spending less time in the surf or warmer water and want an easy-on, easy-off option, go with a back zip wetsuit.
Zipperless
Zipperless suits are a relatively new innovation. With the perfect fit, you'll enjoy less water flushing and excellent mobility. However these suits are the most difficult to get on and off, especially for beginners. If a zipperless suit fits you like a second skin and you don't mind a bit of work when getting changed, check out zipperless wetsuits.
Wetsuit Features To Look For:
Knee Pads
When it comes to wetsuits, some of the most important features are in the details. Wetsuits designed for surfing should include reinforcements in key areas like the knees. Knees reinforced with a thicker rubber will extend the life of your suit and keep you happy in the water.
Arm and Leg Cuffs
Look for seals or beveled edges on ankle and wrist openings to reduce flushing and improve durability when changing.
Lining
Many neoprenes are lined with nylon to make the wetsuit easier to get on and off but warmer suits often feature an internal thermal lining. These are designed to insulate and retain body heat longer. They trap a thin layer of air against your skin which is then warmed by your body, leaving you comfortable in the water without affecting your range of movement.
Wetsuit Material: Which Is Right for You?
Major innovations in wetsuit materials have improved both the functionality and availability of more sustainable alternatives. Petroleum-based neoprene was the only option for decades, but now there are many types of neoprene to keep you warm in the water.
Limestone Neoprene:
Made from limestone rock, this neoprene tends to be lighter and absorb less water than other types, making it warmer and more flexible than many traditional neoprenes. It is also considered more sustainable than oil-based options as it not only lasts longer, limestone is less harmful to the environment than oil and petroleum.
Yulex Neoprene:
Although costly, Yulex is completely rubber-free and considered one of the most sustainable wetsuit materials. For those who suffer from neoprene allergies, Yulex plant-based neoprene is a good hypoallergenic option.
Wetsuit Paneling & Seams
Seams connect different panels of neoprene together to create a wetsuit. They play a critical role in the flexibility, warmth and durability of a wetsuit. From stitched flatlock and GBS seams to performance seals like liquid glue and neoprene tape that form a watertight closure on cold-water suits, we cover them all below.
Panels
Wetsuits often feature at least one panel (usually in the chest area) of smooth skin rubber. This smooth skin blocks wind and traps heat in critical areas of the body, but it is more susceptible to cracking if not cared for. Meanwhile, lycra is generally reserved for swimming and triathlons, providing protection from the sun and wind but minimal warmth.
Flatlock
The simplest type of seal – flatlock seams – are found on rashguards and warm water suits. Two pieces of neoprene are connected at the ends by a stitch that runs through the neoprene. Flatlock seams are strong, durable and cost-effective but water passes freely through them and flexibility is limited.
Glued and Blind Stitched (GBS)
With improved warmth and flexibility, glued and blind stitched (GBS) seams are a step above flatlock seams. Panels are glued together (sometimes two or even three times for a better seal) at the ends. Then they are joined by a blind stitch. It's called a blind stitch because the needle doesn't pass all the way through the neoprene. This is done using a hooked needle. As a result, you'll only see the seam on one side of the suit. Double-blind stitched seams repeat the process on each side of the neoprene. This method lets in less water and creates a more flexible, durable seal.
Taped
Applying a thin neoprene tape on a seam on the inside of the suit helps enhance durability while improving the watertight seal. Taped seams are especially useful in seams that see a lot of stretch when changing in and out of a suit.
Liquid Taped
The ultimate in warmth and performance, liquid taped seams create an entirely waterproof seal while adding minimal weight. A special liquid rubber compound material is applied to either the inside, outside, or both sides of the seam to create a durable, flexible, waterproof barrier. Sometimes called welded seams, liquid taped seals are found on higher-end performance suits.
Choose Your Sport: Surfing Wetsuits Versus Swimming Wetsuits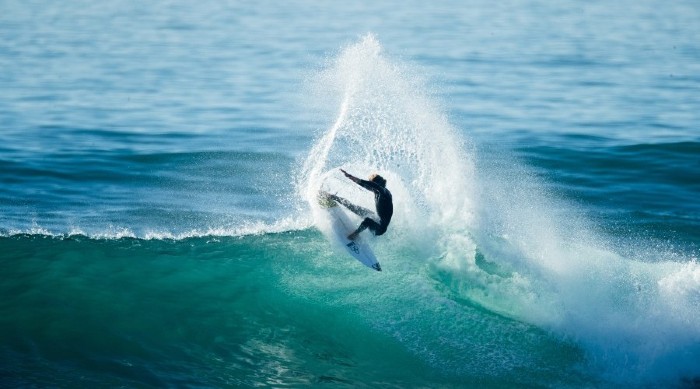 Surfing wetsuits are designed with the ergonomics, intensity and high wear of surfing in mind. You won't find reinforced knee panels on a swimming wetsuit. Be sure to select the wetsuit for the sport you're most likely to use it for the most. Any wetsuit will keep you warm in the water, but the right suit can make all the difference when the conditions demand it.
Swimming wetsuits are designed with different flexibility in mind than surfing wetsuits as the sports require different ranges of motion. Since swimming is also a higher aerobic intensity (meaning you're working up more of a sweat), warmth can be less of a priority for a swim wetsuit.