What To Pack for a Surf Trip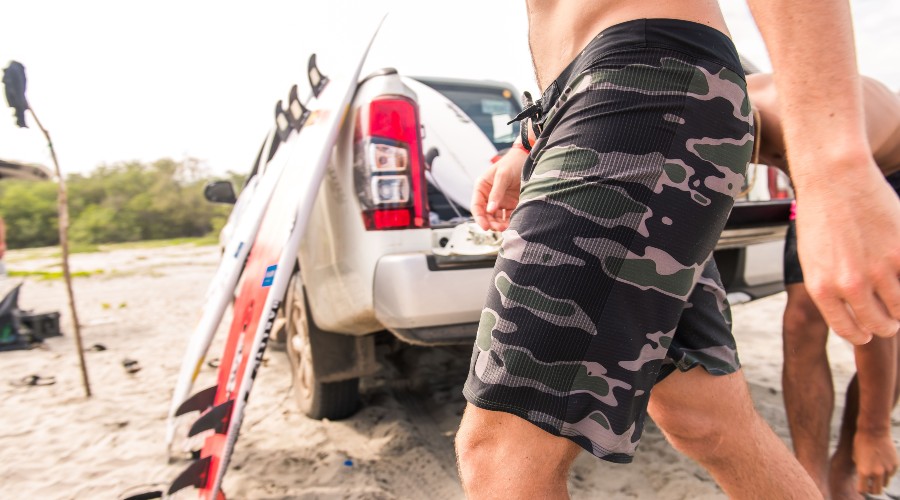 Surf trips are the dream of many surfers, with the potential to score perfect waves and visit new and exotic places. Packing for a destination surf trip is not as simple as throwing a few things in a suitcase. You'll want to have the right gear on hand for your trip, whether it's a cold-water or tropical spot. Let's see what you should pack for your next surfing adventure.
All Destination Surf Essentials
No matter where you're headed on your trip, there are specific surf essentials you'll need to bring.
Surfing Gear
Surfboard: Your board choice can make or break your surfing vacation. You'll want to check out the wave selection and bring the ideal surfboard for your level and expected conditions. If you're planning on barreling beach breaks, having a responsive shortboard is best, while a longboard will work well on softer breaks. A fish surfboard is a versatile option that can work on many waves.
Fins: Fins are a crucial part of your surfing setup. With interchangeable components and various sizes and shapes, you can modify your surfboard's performance in no time.
Leashes: A strong and light leash will serve you well. Check the length and strength before buying to match your surfboard and personal preference.
Finkey: You'll need a finkey or two on your surf trip in order to attach, adjust, and remove your fins. There are various fin systems, so make sure you have the correct key for the fins on your board.
Tool Kit: Having a tool kit with various surf-related items is crucial. You'll appreciate these all-in-ones, which have wax combs, finkeys, and more.
Wax: Get the right wax for the water temperature of your destination. Cold water wax will perform differently than warm water wax in tropical climates.
Toiletries
Sunscreen: A bad sunburn can keep you out of the water and on the sidelines as your friends catch wave after wave. Ensure you're right there with them by protecting your skin. Opt for a reef-safe sunscreen if available.
Chapstick: Similar to sunscreen, chapstick can save your lips from sun and wind damage.
Pain Relief Balm: Injuries can happen, especially in unfamiliar surf spots. Make sure to bring a source of relief just in case.
First Aid Kit: You never know when a first aid kit may come in handy. Check that yours is equipped with bandages, gauze, and antibiotic cream or ointment for reef cuts.
Vitamin C Supplements: The best defense against sickness is a strong immune system, and having Vitamin C supplements can boost your defenses.
Tweezers: You may not need them every trip, but if you get too close to a sea urchin, you'll be happy to have them.
Earplugs: Earplugs are the number one prevention against surfer's ear, especially in cold water.
Travel Extras
Weatherproof Camera: No pictures? It didn't happen. Prove that the waves were as good as you say they were with a weatherproof camera.
Tide Watch: Some spots don't even break on certain tides. Get a tide watch that you can program local surf spots into, to ensure you hit the break at the right time of day.
Travel Laundry Detergent or Eco Sheets: Often, you arrive at your destination only to find that there is no way to do your laundry. Bring your own supplies in case your accommodations don't provide them.
What To Pack for Warm Water Surfing
A warm water surfing trip is the dream for many surfers. No wetsuits, no thawing out after your session - just you, your boardies, bathtub-warm water, and plenty of sunshine. Bonus: packing for these excursions is more straightforward.
Surfwear & Surf Gear
Clothing
Additional Items
Sunglasses: Keep your eyes protected, even in the blazing sunshine, with a solid pair of sunglasses. 100% UV protection is key.
Mosquito Repellent: Mosquitoes are no joke. You'll want a repellent that works to keep you free from itchy bites.
Aloe Vera Cream: Whether you need reef rash relief or get a cut, make sure you have aloe nearby.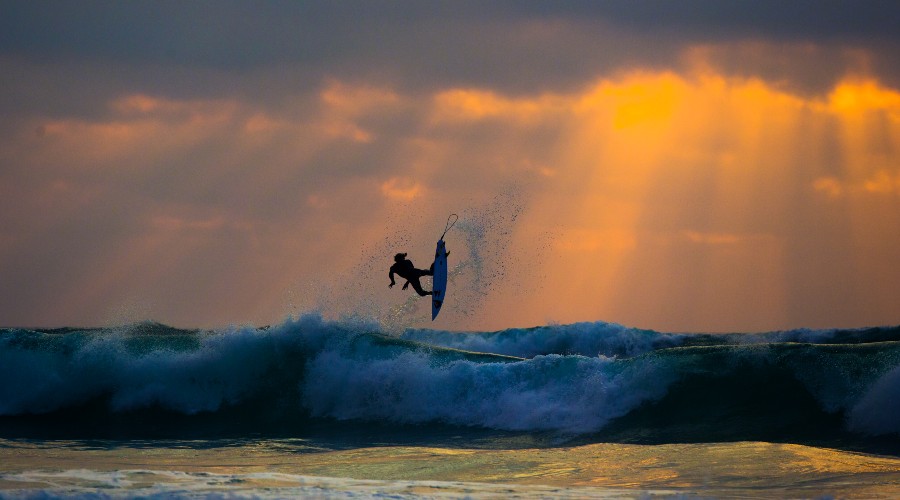 What To Pack for Cold Water Surfing
Cold water surfing trips have become increasingly popular. The main reason? Fantastic waves and fewer crowds. You can explore unknown frontiers and find isolated breaks to call your own. Just make sure you pack accordingly.
Wetsuits
Wetsuit Accessories | 55°F (13°C) & Below
Clothing
Miscellaneous Items
Hand Warmers: When on land, produce heat on demand with handheld hand warmers. Add them inside gloves for ultimate warmth.
Thermal Insoles: You can wick away moisture and keep your feet toasty with thermal insoles, giving you a surprising heat and comfort boost.
Moisturizer: Cold, dry weather can dry out your skin. Bring along some lotion and avoid cracking and drying.
Flask: Whatever you can do to keep yourself warm. That flask can lift your spirits and relax you in the cold.
Being prepared for your next surf trip will pay off. Whether heading to a reef break in the tropics or a deserted, frigid coastline, packing the appropriate gear will make all the difference. Grab your stuff and enjoy the trip.
Related Guides
The Ultimate Guide to Boardshorts and Swimwear
Rashguards: Everything You Need To Know
How To Choose the Perfect Wetsuit
The Ultimate Wetsuit Thickness Guide
How To Wash, Clean and Care for Your Wetsuit